Posted by keith on 30th April 2008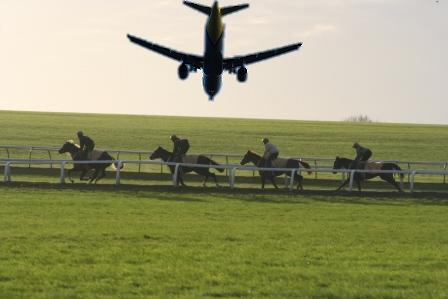 There are few things more entertaining than when two different businesses, both loaded with money, battle it out for supremacy , with the only losers being one or other industry. This particular battle is taking place between the multi-millionaire (billionaire) stable owners of Newmarket, in the English Midlands, and the air industry, led by National Air Traffic Services, a recently privatised air infrastructure business. It has become a turf war…literally.
From the point of view of the avid greenwash spotter, anything that promises to dent the imperialism of the air industry has got to be good news; yet the racing industry is run by people who spend their lives dashing from one international stable to another — by plane, of course — only interspersed by journeys in their leather and burnished walnut lined Range Rovers to and from large lunches where they discuss how much more money they can make.
Surprisingly, I don't have any sympathy for either side. Here is the Observer newspaper taking up the hilarious story:
Plans that would see up to 33 planes an hour, circling over a major horse breeding area, threaten to drive away the world's top stud owners, including the ruler of oil-rich Dubai, Sheikh Mohammed bin Rashid al Maktoum, and Kirsten Rausing, the Tetra Pak heiress.
Owners and trainers have hired aviation and planning law expert John Steel, QC, to force the National Air Traffic Services (Nats), the UK's leading air-traffic management company, to rethink its proposals, which they say could result in the death of Newmarket as headquarters of the racing industry.
'The proposed stacking is right over the top of the horse-breeding area,' said Alastair Watson, chairman of the Newmarket Stud Farmers Association and manager of Rausing's Lanwades stud. 'Breeders have chosen the area for its quiet environs. There is obviously the possibility of them moving away.'
An urgent meeting to discuss the proposals was attended by representatives from Sheikh Mohammed's stud, as well as from the Newmarket Stud Farmers' Association, the National Stud, the Thoroughbred Breeders' Association and Tattersalls, the UK's leading bloodstock auctioneers. 'Brood mares come from around the world to be covered here. It could really knock confidence,' said Louise Kemble, chief executive of the breeders' association.
Oh, how I laughed!
Posted in Corporate Hypocrisy, Good News! | 1 Comment »