Posted by keith on April 16th, 2008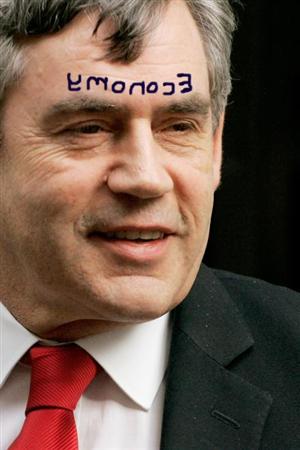 On the day China was announced as the world's biggest emitter of carbon dioxide* (well, about as official as we can get at the moment) Gordon Brown, Prime Minister of the UK announced that he was going to focus on just one thing — and I'm not surprised considering how important this thing is:
"Next month's University of California report warns that unless China radically changes its energy policies, its increases in greenhouse gases will be several times larger than the cuts in emissions being made by rich nations under the Kyoto Protocol."
Sorry? Did I get that wrong? Oh, it isn't the changing global climate — the event that now guarantees to cause irreversible ecological damage that will affect us dramatically — that Gordon Brown is focusing on; it is the economic climate. Silly me. I do forget sometimes that if we don't all go to the shops to buy piles of crap, fly off on sunny vacations and keep using more and more natural resources to ensure that the global economy keeps on growing then we are doomed! Doomed to what, exactly?
Here's what Gordon actually said:
"Every day that I wake up is about keeping this economy moving forward, keeping stability in the economy and keeping growth…we will do everything in our power to keep the economy moving forward"
To everyone who has an inkling of knowledge about both ecology and economics, this statement reeks of a complete disregard for climatic stability, indeed you could just substitute "global warming" for "economy" and you would get a pretty accurate rendition of what all Western governments, and those non-Western governments that have adopted the growth-lust of the West, are doing to the planet:
"The problem is that growth has to come from somewhere, and it can either come from some artificially created value, such as property prices, which could collapse at any time, or some resource, such as oil, coal, cropland, rock or metal, that is continually being used at an increasing rate. In short, if companies do not accelerate their use of resources then the global economy will not be able to carry on as it is. The economy is hell-bent on consuming the Earth's finite resources in order to survive."
(from http://earth-blog.bravejournal.com/entry/17630)
Next time you hear Gordon Brown mention the environment, climate change or anything else vaguely green, just ignore him: he is just another cretin who thinks that money is more important than life.
---
*This is what I said
in 2006
: "China has overtaken the USA in absolute numbers of televisions and refrigerators, but with a population 4 times higher, the per capita use is still well below that of the USA for these, pretty representative, items. China's total carbon emissions have just exceeded (as of 2006) those of the USA."