Posted by keith on June 6th, 2008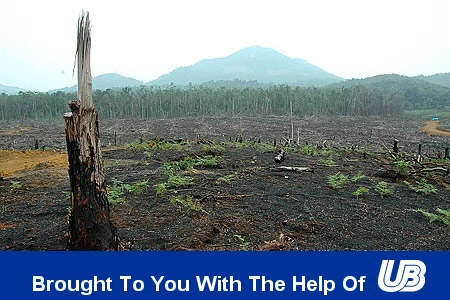 United Biscuits are a big snack company: they are worth at least two billion US dollars, and have huge market share in north west Europe. According to their web site:
UB owns three of the top selling five biscuit brands in the UK. McVitie's is among the best-known brands in the UK and McVitie's biscuits are purchased by 85% of UK households. The addition of Jacob's brands increases UK biscuit market share to 33%.
UB is the leading manufacturer and marketer of biscuits in UK and second in France, Netherlands and Belgium. UB is number two in the UK branded savoury snacks and crisps market.
This information is repeated verbatim on the Roundtable For Sustainable Palm Oil's web site, for United Biscuits are a member. We met the RSPO on The Unsuitablog a few weeks ago, when it became clear that they were nothing more than an industry talking shop designed to make people think that something was being done about the extraordinary amount of destruction taking place in south east Asia just to provide food oil and feedstock for biofuels.
United Biscuits were happy to talk to me over the phone for a while. I wanted to find out if I could eat McVities biscuits without contributing to deforestation. The answer was pretty clear, and I can say this without fear of comeback:
All McVities biscuits are likely to contain palm oil derived from non-sustainable sources.
Given that United Biscuits have been pushing hard to remove hydrogenated vegetable oils from their products — so that people who can't stop eating crisps, biscuits and cookies can keep eating them without risking a coronary — UB must be using a huge amount of palm oil instead. But they wont tell me — in fact they have cut off communications. Here is the initial e-mail I received from their head of communications, Bob Brightwell:
Keith
We spoke earlier in the week re palm oil and I mentioned that we were working on a new statement that I hoped to let you have at the end of this week.
Unfortunately it is not yet ready and will probably take a week or two as we continue to explore sourcing options. On the positive side I mentioned that we had already achieved a 17% reduction in the amount of palm oil we use since 2005. As I recall you were not that impressed and said that you would have preferred a 70% saving. Well I am pleased to confirm that with the plans we have in place we expect to more than double our 17% saving by next year so will be more than half way to your 70% goal!
Have a good weekend
Bob Brightwell
United Biscuits
Hayes Park
0208 234 5104
Realising that I couldn't judge their progress without some meaningful figures — after all, a million tonnes (or whatever) of palm oil minus 17% is still a hell of a lot of palm oil — I asked for clarification…
Dear Bob
Thanks for the update. I have just realised, however, that the percentage figure is meaningless without an indication of the volume of palm oil actually used. A 17 or 35 percent reduction for UB could equate to the total consumption for a small nation. Could you please provide me with the gross volumes for McVities and UB overall for 2005 and subsequent years, along with the projected consumption figures?
Kind regards
Keith Farnish
And there it stopped. Four weeks later, I am still waiting for (a) a response and (b) the palm oil statement that was meant to be ready in a week. The statement hasn't appeared on their web site, nor has it appeared in the press. Clearly UB don't have a clue how to get themselves out of the destructive mess they have got themselves in to, but are trying to hide behind silence for fear of revealing the truth about their contribution to deforestation.
I eagerly await a response from them…