Posted by keith on July 10th, 2008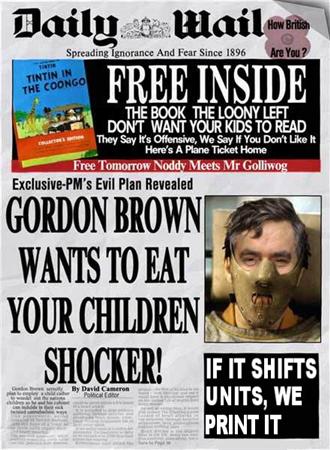 And it was going so well — The Independent and The Guardian running numerous articles about the dangers of climate change and the hypocrisy of government and business in pretending they are doing something when they aren't. The Times, with its special green sections. The Scotsman, with it's thoughtful analysis of environmental issues. Even The Daily Mail and The Sun have been running with a number of stories, taking the consumer culture to task in favour of planet Earth.
[Screech of brakes!]
But what's this coming towards the "Great British Public" (© every tabloid newspaper)? It's car taxes designed to at least encourage, if not to actually make, drivers to drive less polluting vehicles. If there's one thing you don't do in Britain, it's mess with drivers and their cars. Oh yes, we can all bemoan the state of the Earth; take issue with melting ice-caps; be disgusted with the Pacific trash island — but touch the British Motorist's pride and joy and you will have the press to deal with:
9m will feel pain of road tax reforms: More than nine million motorists will lose out under controversial road tax reforms, the Government admitted. (The Independent)
Nine million car owners will be hit by tax rises – four times higher than previously estimated: Almost half of all car owners will be up to £245 worse off under plans for massive increases in road tax, the Treasury admitted yesterday. And fewer than one in five will benefit from the controversial move, which was sold as a way to cut greenhouse gas emissions. (Daily Mail)
More than nine million motorists face higher tax bills: Gordon Brown has been accused of misleading MPs after the Government admitted that more than nine million motorists would lose out under controversial road tax reforms. (The Times)
Nine million drivers face higher road tax, government admits: ALMOST nine million motorists will lose out under controversial reforms to road tax, the government admitted yesterday. Some 44 per cent of vehicles are expected to be hit under the scheme, compared to just a third who will be better off. (The Scotsman)
10 million face road tax hike: NEARLY ten million motorists will see their car tax bills soar under Labour's war on gas-guzzlers, it was revealed yesterday. They will be up to £245 worse off when the new banded system comes into full force in 2010. (The Sun — 10 million?)
Only The Guardian has not fallen foul of the rhetoric, and has wisely ignored this non-news item.
And look at the headline language being used by all of the newspapers that had previously expressed a green agenda: "pain", "tax bills soar", "lose out", "hit", "massive increases". Anyone would think this was a bad thing; which, of course, you will make sure it is if you want to sell newspapers.
Don't you just love the media?