Posted by keith on September 18th, 2008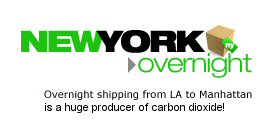 I've been getting some really transparent, awfully sad examples of greenwash lately, which suggests that the bandwagon is full and those that didn't jump on in time are running after it in desperation. The big boys like BP, Ford, Exxon and DuPont have greenwashing off to a fine art, which is why articles like How To Spot Greenwash are so popular – people suspect and just want to check.
On the other hand, it's very amusing to see the pathetic examples I'm sent, if only because it gives me a chance to knock their press release back into their faces with interest. Here's a really awful one I got only today…
---
GO GREEN TO MANHATTAN WITH NEW YORK OVERNIGHT

New Transcontinental Package Service Pledges Carbon Offsets;
Outperforms Majors on Price, Offers LATE Pickups
www.nyovernight.com
Los Angeles, CA, September 17th, 2008 — New York Overnight today announces a new green shipping service!! Entertainment and production industry moguls have always enjoyed the best airline service from Los Angeles to New York. However, these valuable customers' overnight deliveries still get the same old treatment from traditional shippers such as FedEx and UPS while their fuel surcharges have gone sky-high. A new yet experienced player promises to change the landscape of overnight delivery: New York Overnight. New York Overnight combines value, convenience and–in a first for the industry-a greener footprint as well with carbon-neutral, 100% offset emissions.
New York Overnight, through an agreement with industry-leading Climate Clean, whose clients include Nike, Veev and the Environmental Media Association [must look them up – Ed.], is now offsetting 100% of the emissions for its Los Angeles-New York to Los Angeles shipments.
Of course, overnight shipping with a conscience doesn't come cheap. It comes cheaper–MUCH cheaper. In fact, a one-pound package shipped from Los Angeles to New York via New York Overnight cost only $14.21 while FedEx charges $42.31 (with a 20% discount) and UPS charges $43.66 (with a 20% discount). That's a 67% savings over its two biggest competitors. Further, New York Overnight will guarantee their Los Angeles-New York prices for at least one year.
Finally, while other shippers' customers engage in the daily scramble to make deadlines, or worse, make it to the airport, New York Overnight makes office pickups as late as 7:00PM.
"We're pleased to enhance our service offering with carbon neutrality," says New York Overnight founder, Inna Waary. "Our clients in the entertainment, banking, apparel and pharmaceuticals industries have long relied on us. We've built a reputation for quality, service value and above all, complete reliability. Now we can offer a little something extra-a contribution to our future. That doesn't come overnight-it comes over a lifetime."
Hilary Morse * PMG
8265 Sunset, Suite 106 * Los Angeles CA 90046
W) 323 337 9042 * C) 310 717 9592
---
My response was short and to the point…
---
Alternatively, Hilary, you could just stop being in one of the most polluting industries in the world that has built up expectations of the possibility of ultra-quick delivery and ended up having no alternative but to offset (for all the good that is). If Americans didn't expect to be able to get goods from one side of the country to another overnight then they would be able to use overland transport – preferably rail, a mode of transport that has been killed off by the air industry. As it is, you are trying to greenwash us with something that isn't even necessary to greenwash; just do it a different way.
Thanks for the information, this will go down very well on The Unsuitablog, an anti-greenwashing site that I operate.
Keith Farnish
www.unsuitablog.com
---
As we all know, offsetting was only invented to allow the consumer culture to carry on as normal, with less guilt. Of course, the lack of guilt is an illusion – like everything else in the Culture Of Maximum Harm – you should feel guilty if you want to get a parcel from LA to New York overnight! They are not talking about replacement kidneys here, they are talking about DVDs, sneakers, advertising proofs and all that really important (ha!) stuff.
Get a grip people!