Posted by keith on October 9th, 2008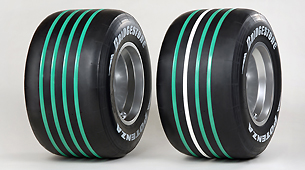 I had no idea that such an incredible greenwash was going on behind my back until alerted by F1Fanatic to the astonishing tale of the Bridgestone "Green" Tyre.
The people who read the F1Fanatic website have few allusions that Formula 1 racing can ever be green, as shown by the comments under the linked article…unlike Bridgestone, who have really gone to town over their big fat tyres with green stripes:
Formula One will show its support for the FIA's Make Cars Green campaign by running on specially prepared green-grooved tyres at the Japanese Grand Prix.

Bridgestone, the global partner for the FIA's campaign, launched the Make Cars Green tyre at a ceremony in Tokyo today, with support from Formula One teams McLaren-Mercedes and Ferrari, as well as their drivers Lewis Hamilton, Heikki Kovalainen, Felipe Massa and Kimi Räikkönen.

The initiative demonstrates that Formula One's teams and partners are backing the Make Cars Green campaign's goal to reduce the impact of motoring on the environment.

The connections between greener motoring and Formula One will be further strengthened next year with the introduction of energy regenerating hybrid devices, one of a number of initiatives in the sport that will be increasingly relevant to the car industry and help accelerate the use of fuel-efficient technology on public roads.
So, if I'm right about this, the people responsible for hurling cars around a track at 200 miles per hour, moving their entire engineering entourage across the globe multiple times, along with the flight-happy petrolheads who slavishly follow their every move, actually think we will believe the FIA (the world motor racing governing body) care about the environment!
The Make Cars Green (sic) website is a treasure chest of greenwashing gloop.
Make Cars Green brings together all aspects of the FIA's work from encouraging consumers to go green, to representing our members' ecological concerns towards government and manufacturers, and the introduction of environmental initiatives into motor sport.

Make Cars Green aims to encourage radical rethink in the way cars are considered in society by being at the forefront of encouraging considerate and ecologically sound mobility.
That's about twelve contradictions in one short statement, and a huge own goal (apologies for mixing my sprting metaphors) for the FIA, because the only way to have "considerate and ecologically sound mobility" is to remove all the engines. Seriously. Coaches and trains are better than cars, trucks and planes, but all of them use fuel, and all of them perpetuate the myth that it is necessary to travel long distances at speed — only in a civilized world is this necessary.
Take a look at this video, for a quick reality check…
And bye, bye, motor sport (that is, if it wants to be green :-D )