Posted by keith on November 5th, 2008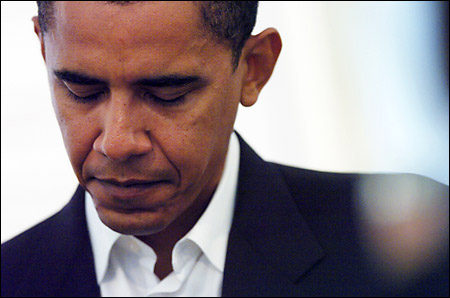 I'm going to make a prediction, and you can hold me to this: within a year of taking office, Barack Obama will seem like just another President of the United States. I feel sorry for him because — having an instinct for these things — I think he really does want to make change happen, at least in a social context, yet he has but one choice: toe the line or face the consequences.
A few months ago I wrote a highly contentious article called "Obama Or McCain: Who Cares?" which said the following:
Sorry to upset your political sensibilities — if you feel that party politics is a big deal — but it makes no difference at all who becomes president; and here is why.

It has always been the foreign policy of all civilized nations to maximise the amount of resources it can obtain, whether that be fossil fuels, metals, farmland, fish or slaves — like the people who make most of our clothes and consumer goods. Civilization requires natural resources and labor in order to keep it running: failure to secure these is economic and political suicide. The USA is no different: neither Obama nor McCain will change that policy, because one of them will become head of the most powerful civilized nation on Earth. Their raison d'etre will be to ensure the continued success of that nation on the world stage, and so their primary objective will be to secure resources — that's the way it has always been; that's why all civilizations have sought to create empires.
Don't get me wrong, the man in office may want to change, but his head will be on the block from Day One. Should he choose to make sweeping changes to the healthcare system that are detrimental to the income of the pharmaceutical industry, those changes will be watered down or canned via the House or the Senate (whichever has the ear of that industry); should he choose to implement tough new emissions regulations on vehicles (detrimental to the motor and oil industry), those changes will be watered down or canned; should he choose to impose strict rules on employee exploitation, which hurt the bottom line of retailers, those changes will be watered down or canned; should he choose to ban all logging and toxic releases in protected areas, and expand these protected areas, those changes will be watered down or canned.
Should he try and defy the powers that be, he will put himself in serious danger. There is a precedent for this.
Worse still, none of the changes described above will actually make a significant difference to the net impact of civilization upon the lives of people, and the environment which we all depend on: the President operates within a context of continuing to expand Industrial Civilization. The President has no choice but to work with the system. The President will do the bidding of the system because he represents the system, in all its toxic glory.
That is why Barack Obama will become a greenwasher — it's his job, whether he likes it or not.