Posted by keith on 29th January 2009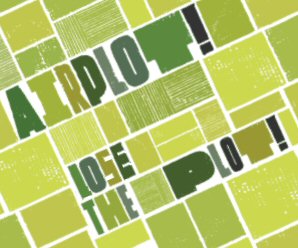 I'll admit it, I signed up to the Greenpeace "Airplot" scheme, putting my name down to be a joint owner of a piece of land adjacent to London Heathrow Airport which would have to be compulsorily purchased should the airport be expanded. Make no mistake, this is a good idea and I applaud Greenpeace for doing it: one of the few good ideas they have had in the last few years (I think wasting 6 months trying to convince Woolworths to ban incandescent light bulbs might go down as one of their worst).
I mentioned the awful hypocrisy of film actress Emma Thompson speaking on behalf of Greenpeace about the need the prevent airport expansion a few days ago. For a moment, I thought that maybe Greenpeace had not briefed her properly and that her statement "This is not a campaign against flying" was just a foot-in-mouth moment.
Then it got worse…
From: Emma Thompson, Greenpeace
To: keith@theearthblog.org
Sent: Friday, January 23, 2009 4:15 PM
Subject: Airplot: Help us swing the vote on Heathrow

My fellow plot owners,

On Wednesday there will be a vote in parliament on a third runway at Heathrow. Ahead of this vote we urgently need your help to put pressure on Labour MPs to vote with their conscience and say NO to a third runway. We already have the support of the LibDems and Tory MPs.

Send a letter to the 57 Labour MPs who have opposed Heathrow expansion.

The government is treating us as if we're stupid. They're asking all of us to reduce our energy consumption while they build another runway at Heathrow. I think it's the most egregious piece of hypocrisy I've seen in a long time…
I thought I'd highlight that last bit. I'm not sure what you call a hypocrite who accuses someone else of hypocrisy. Maybe a Hypocrite Squared. I responded in the only way I could.
From: Keith Farnish
Sent: 23 January 2009 16:22
To: Webteam
Subject: Re: Airplot: Help us swing the vote on Heathrow

Great, does that mean Emma Thompson isn't going to fly any more?

Keith
Well, you would, wouldn't you? This astonishing reply came back:
From: info
To: Keith Farnish
Sent: Tuesday, January 27, 2009 3:45 PM
Subject: RE: Airplot: Help us swing the vote on Heathrow

Dear Keith,

Thank you for your email.

We are not campaigning to stop people from flying altogether, but we do want to prevent the number of flights from growing to dangerous levels – the growth in aviation is ruining our chances of stopping dangerous climate change.

This campaign is against airport expansion, and if you would like to find out more please do visit the following pages of our website:

www.greenpeace.org.uk/blog/climate/does-economic-case-third-runway-stack-20090114
www.greenpeace.org.uk/media/reports/the-case-against-heathrow-expansion-a-briefing
www.greenpeace.org.uk/blog/climate/10-reasons-to-stop-heathrow-expansion

Many thanks for your support and best wishes,

Donna

Donna Hayter
Supporter Services
Greenpeace UK

www.greenpeace.org.uk
Very polite, but horribly naive, and possibly the most concrete evidence so far that the environmental mainstream are not trying to save the Earth or the future of humanity, they are merely trying to salvage Industrial Civilization, whatever hypocrisy it takes, and however pointless and fruitless the task.
My response was hardly worth it, given the incredible denial Greenpeace are now swimming around in, but I made it nonetheless, because if there is a chance that Donna might understand, then she might get out of Greenpeace and do something tangible.
Dear Donna

Flying, and carbon emissions in general are already at dangerous levels; massive reductions in excess of 90% by 2030 are needed to prevent runaway climate change. Are Greenpeace saying that we can leave global carbon levels at 385ppm and still be safe?

If the campaign is not against flying then how are you going to prevent airport expansion – or are Greenpeace staff still flying around the world, as they were when I was a volunteer?

Regards

Keith
I did not get a response.
Posted in Celebrity Hypocrisy, Government Policies, NGO Hypocrisy, Should Know Better | No Comments »