Posted by keith on June 5th, 2009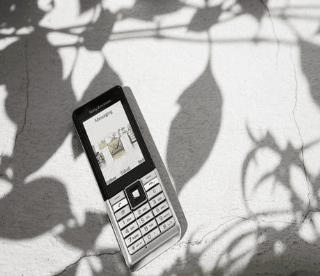 I had a very exciting delivery yesterday: I had a new mobile phone (cellphone) through the post. It's one of those Nokia ones that flip out so you can use the mini keyboard to type messages, which is perfect for me because I have very small fingers to go with the very small keys. Actually, I say 'new' but actually you can't buy these any more, it was second hand from eBay (and I know it's second hand because it has a small scuff mark at the top) and works fine – it makes phone calls and sends text messages; should it do anything else?
When I used to be an IT manager, I was continually offered upgrades, but turned them all down — the phone I started with was basically the phone I finished with, and the one that I ended up using for another 2 years until the screen became too scratched to see through (from rubbing on keys in my pocket) and the green "call" button stopped working, which is obviously quite an important thing for a phone. I would say it was 7 years old when it finally broke. I have replaced it with exactly the same model.
What a rubbish consumer that makes me.
Now we see Sony Ericsson touting a "green" phone.
Mobile phone company Sony Ericsson will unveil two 'green' handsets tomorrow with a carbon footprint 15% lower than current models. By cutting packaging, using recycled plastics and reducing the use of solvents in the paints, the electronics company claims to have made the handsets more environmentally friendly.

The new phones, the C901 GreenHeart and the Naite, part of what Sony Ericsson says will be a revised portfolio of environmentally friendly phones to be rolled out in the next two years. It is also part of the company's wider mission to cut 20% of its total carbon emissions by 2015.
Of course, if you want a 'green' phone you will have to get rid of any phone you already have (Hey! You can recycle it, so that's alright then! [sigh]) and buy this new replacement, which obviously — like everything in the consumer electronics industry — has some nifty new features, like telling you how many calories your dinner contains, or allowing you to see through brick walls, or something like that. If new goods didn't have new features then (disaster!) people wouldn't feel they had to replace their old* equipment; they would just be content with using it until it broke down, which is terrible for the economy.
Sadly, Greenpeace didn't feel the need to mention this when asked about the 'green' phone (why does no one ever ask me?):
Iza Kruszewska, toxics campaigner at Greenpeace UK welcomed the new phones from Sony Ericsson and said that the company had a good record in reducing its use of harmful chemicals. But she said the company should increase the number of its recycling points around the world. "They do mention their ambition to increase the number of collection points and take-back schemes they have globally but they are well behind Nokia on this."
Yay! "Increase the number of its recycling points" — not "stop making us buy more crap all the time", but "Increase the number of…recycling points." I think that says all we need to know about the 'radical' nature of Greenpeace. According to Greenpiss (the new name for "Greenpeace-Lite"), you can keep buying loads of crap, and if it's got 'green' credentials then you don't even have to feel guilty about it…
(* I say "old", but the fashion obsolescence treadmill keeps redefining old so that you feel obliged to buy new stuff even when your existing stuff is still new!)