Posted by keith on November 23rd, 2009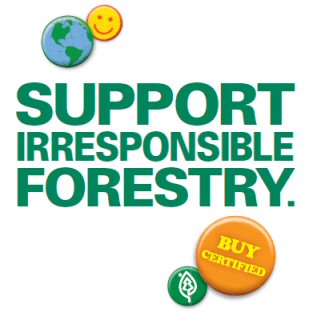 Apparently it's ok to clearfell forests providing they are certified as sustainable.
I suppose there's a precedent for this: Dick Cheney, as we all know, said it was ok to torture prisoners of war enemy non-combatants so long as someone in the US government claimed it wasn't really torture, or they were able to simple redesignate the people being tortured.
So when the Sustainable Forestry Initiative, a "non-profit" (oh, that phrase is so useful if you are a greenwasher) whose board is awash with timber industry cronies and various other representatives of the industrial machine, come along with the idea of their own certification scheme, who can blame them if it just happens to be of the utmost benefit to the industry. Actually, I really want you to stop reading this for a minute and go along to the SFI web site: read the biographies of the board members, and then come back here with perhaps a little anger in your veins…
Thanks to the people at ForestEthics, the greenwashing carried out by SFI is a little more in the public eye now. After their antics at the Greenbuild conference in Phoenix, Arizona a few days ago, the people at SFI seem to have become a little annoyed:
As sustainability practices continue to evolve, it is important that planners, designers, builders, customers and architects know the source of the wood used in their project, and increase the wood in their projects! Today in North America we are all fortunate to have a number of strong forest certification standards, which means the building community have a lot of options when it comes to responsibly sourced wood. But the fact remains that just 10% of the world's forests are certified – collectively, we all need to promote credible forest certification to influence the other 90%.

As you may know, USGBC is currently reviewing and revising its wood certification benchmarks under LEED. I strongly urge them to recognize all credible forest certification programs, including SFI. This is really a huge opportunity for the USGBC to take a leadership role, end the certification debates and encourage more forest certification worldwide by focusing on sustainability. The certification debates, and subsequent PR stunts, take away from the real goal we should all be working towards – responsible forestry.
The "certification debates" that the SFI and other organisations decry so much, are looking into the failure of certification schemes worldwide to provide adequate protection for ecosystems — they are vital, as are the "PR stunts" such as the one below, that highlight the greenwashing to a wider audience.
I will leave it to ForestEthics to tell the story of their fun at Greenbuild…
Greenwashing by the Sustainable Forestry Initiative (SFI) was an unexpected addition to the agenda at this year's Greenbuild–the world's largest green building conference–in Phoenix, Arizona. Today–the day after keynote speaker Al Gore exhorted Greenbuild to call out greenwashing–ForestEthics released a large floating banner exposing SFI as a greenwasher.

On the conference's opening day, ForestEthics ran an ad in USA Today's Phoenix edition spotlighting SFI's "greenwashing practice" of certifying forest destruction as 'sustainable'. Copies of this ad and a brochure detailing SFI's shortcomings circulated throughout the massive conference–with an estimated attendance of 25,000 people.

The ad targeted three prominent window companies for their ties to SFI, as well as to "notorious" California clearcutter Sierra Pacific Industries.

These actions add powerful visual elements to a campaign that began in September when ForestEthics filed legal complaints with the Federal Trade Commission (FTC) and Internal Revenue Service (IRS) that became the focus of an article in the New York Times on September 12.

In its FTC complaint, ForestEthics described how SFI, funded and managed primarily by large logging companies, gives its seal of approval to the logging practices of these same companies that harm people and wildlife, damage water resources and destroy forests.

In October, the Sierra Club also filed a complaint with SFI, presenting scientific evidence that SFI certified logging by Weyerhaeuser on extremely steep and unstable mountainsides in SW Washington despite publicly available evidence that these mountainsides were prone to landslides. In a major regional rainstorm in December 2007,massive landslides did occur on logging sites certified by SFI as sustainable, producing downstream logjams and record flooding. The report submitted to the IRS focused on SFI's nonprofit status, as SFI's funding and activities serve the private interests of wood and paper companies that want a 'green' image. This is not a proper purpose for an organization with the same nonprofit status that the IRS gives to public charities.
Edit: For the record, I have no faith in FSC or any other certification scheme, nor do I think ForestEthics are squeaky clean – certainly I do not endorse them, only the action they carried out.