Posted by keith on September 7th, 2010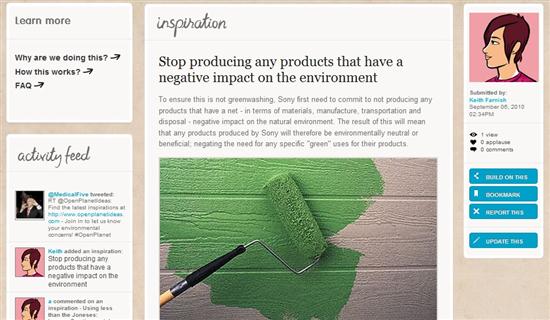 "Just imagine if today's technology could be re-purposed in radical ways to help solve our planet's environmental problems? Well, a new project called Open Planet Ideas has been designed to enable you to do just that."
Ok, thought experiment, so I'm doing just that and you can join in too. What you will probably end up realising is that very little of today's technology could ever be re-purposed to solve environmental problems; unless you can think of a way to use a billion television sets for the benefit of the natural world, or a hundred million Playstations. Yes, this is a venture by Sony; that well-known philanthropic organisation that will stop at nothing to make our world a better place, so long as it is crammed with its consumer goods.
Sony Europe and WWF to crowdsource eco technology applications with "Open Planet Ideas"

a.. Sony Europe launches Open Planet Ideas in conjunction with WWF.
b.. Open Planet Ideas is an online platform which challenges members of the public to imagine how current Sony technologies could be repurposed to tackle environmental problems.
c.. Projects may be collaborative, with online participants sharing inspiration.
d.. Those who collaborate on the winning idea will have the opportunity to work with Sony engineers and WWF specialists to bring it to life.
e.. For more information see www.openplanetideas.com.


Just imagine if today's technology could be re-purposed in radical ways to help solve our planet's environmental problems? Well, a new project called Open Planet Ideas has been designed to enable you to do just that.

Open Planet Ideas is an online community that challenges you to imagine how technologies such as gaming devices, digital cameras and GPS units could be used to address environmental issues like climate change, biodiversity and water conservation.

You can share inspirations and ideas in photographs, videos and stories, and then evaluate and vote on which concepts should be developed further. Those who collaborate on the winning idea will have the opportunity to work with Sony engineers and WWF specialists to make the project a reality.

Get involved at www.openplanetideas.com.

Thanks,

Clea Gray
Grayling
29-35 Lexington Street
London
W1F 9AH
United Kingdom

Tel: +44 (0)20 7025 7500
Direct: +44 (0)20 7025 7551
Mobile: +44 (0)77 7560 1121
Email: Clea.Gray@Grayling.com
Web: www.Grayling.com
Nice of Clea to provide to much contact information – she must have really wanted people to get in touch…later.
In case anyone is unsure later on about the environmental claims being made by Sony with regards to this project, I now quote verbatim from the website, including the robust support WWF are giving to said project:
Why is Sony doing this?

As one of the world's biggest digital entertainment companies, it's no big surprise that at Sony we believe passionately that technology can do good things. But we also believe that people can make really amazing things happen when they get together.

We've created Open Planet Ideas as part of our commitment to help create a more sustainable environment for current and future generations. And we've also built it to show that communities can play a vital role in accelerating the pace of technological, social and environmental change.

At Sony we believe strongly that technology can play a key role in solving some of the environmental issues facing the planet. Reflecting this philosophy, we've also set ourselves strict sustainability targets that include lowering energy consumption, re-using materials and recycling more. We also look beyond our products to support eco initiatives that could benefit from using our technologies and products for environmental gain.

Why is WWF doing this?

At WWF we're always open to embracing new ideas – especially those that help raise awareness of today's environmental issues, inspire solutions-oriented responses and ultimately benefit our one and only planet.

We also believe that we can't do everything alone. That's why we have a long and successful track record of working in partnership with others – including some of the world's leading companies – to raise standards, drive sustainability and bring about positive change.

WWF's corporate partners use their voice to make change happen. And this is exactly what Open Planet Ideas is also about: leveraging the amazing potential of modern technology to make a positive contribution to the environment and to society.

Our vision is one of a world where people live in harmony with nature. We're positive that by working together constructively we can, and will, solve current problems. Especially if we use the great tools and resources that we have at our disposal – and above all, our ability to think creatively and innovate.
(my emphasis)
Not surprisingly, I wasn't completely convinced that Sony were really showing "commitment to…a more sustainable environment", given their entire business model depends upon shifting as many new electronic items to consumption slaves as humanly possible. I had a short email dialogue with Clea:
To: Clea Gray
Subject: Re: Sony Europe and WWF launch "Open Planet Ideas"

So, Clea, what Sony and WWF are proposing is that all Sony products sold will now have a positive effect on the environment. Yes?

I'm slightly surprised that any high complexity technology that relies on an industrial infrastructure could ever be environmentally friendly, but I'm willing to listen if you could explain the theory.

Thanks

Keith
To: Keith Farnish
Subject: RE: Sony Europe and WWF launch "Open Planet Ideas"

Hi Keith,

Thanks very much for your e-mail.

Sony in not trying to crowdsource for new ideas on how it's technology can become more environmentally friendly but rather trying to encourage the public to collectively create ideas around how existing Sony technology can be repurposed and redesigned to help tackle some of the worlds key environmental problems (defining a specific issue is the first stage of the Open Planet Ideas campaign).

This kind of approach to re-using current technologies was first demonstrated by Sony last year in the Forest Guard project. Working with Sony, a group of young people from California conceived the novel use of Sony's IPELA security cameras, wireless networks and photo-stitching software to create an online community of citizen firewatchers, monitoring at-risk areas where forest fires are a major environmental threat.

I hope this answers your question, Sony and WWF are holding a breakfast media briefing event for 'Open Plant Ideas' on the 10th Sept at the National Geographic store on Regent Street, London which you are more than welcome to attend.

Here is a brief outline of the itinerary:

09:15 Arrive at National Geographic Store, 83-97 Regent Street, London, W1B 4EW
Coffees & welcome
09:30 Adrian Northover-Smith, Sony – introduction to Open Planet Ideas
09:40 Celebrity spokesperson
09:55 Open Planet Ideas – demonstration of key features
10:15 Dax Lovegrove, WWF
10:25 Q&A sessions
10:40 Photo shoot
11:05 121 interviews and breakout-sessions
11.30 Depart

Please let me know of you will be able to make it or if you need any more information.

Regards,

Clea
So now, not only are WWF getting in on the act, but our old car advert loving friend National Geographic are hosting a conference, which I wholeheartedly recommend you attend and make your opinions felt…
To: Clea Gray
Subject: Re: Sony Europe and WWF launch "Open Planet Ideas"

Hi Clea

You seem to have answered every question except for the one I asked:

"So, Clea, what Sony and WWF are proposing is that all Sony products sold will now have a positive effect on the environment. Yes?"

The implication being that something like a Playstation – the function of which, at the lowest level, is to make Sony money; but at a more superficial level, to entertain people, or rather distract them from the real world – can have a net environmental benefit. I would be keen to see Sony's calculations, as to this net benefit.

Regards

Keith
To: Keith Farnish
Subject: RE: Sony Europe and WWF launch "Open Planet Ideas"

Hi Keith,

I'm happy to talk through the Open Planet Ideas project in more detail, it might be best to do so over the telephone. Do you have a contact number I can call you on?

Thanks,

Clea
So call her up I did. Because Grayling are a PR company which, no doubt, want to ensure their efforts touch as many people as possible, I think it's only fair you get the chance to hear the recording too. To add to the listening experience there are also a few links that you need to be aware of which are to pages referred to in the conversation.
Grayling's PR activities in industry: http://www.grayling.com/EnergyEnvironmentIndustry/
The NGO Perception Audit: http://www.grayling.com/NGOPerceptionAudit/
That dreadful gas pipeline work: http://www.holmesreport.com/story.cfm?edit_id=11532&typeid=1&goto=story
Now for that phone call.
And in case you're wondering, no one has got back to me yet.