Posted by keith on 28th October 2010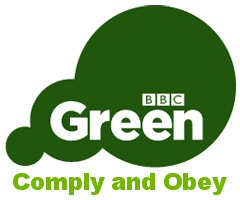 I like the BBC. It manages to do a very difficult job being the national, public-funded broadcaster of the UK, while at the same time generally refusing to kow-tow to the demands of the state and it's corporate owners. On the other hand there is a lot to criticise the BBC for, in particular its insistance that economic growth is a good thing, and that Strictly Come Dancing / The Apprentice contestants qualify as subjects for the news.
Sometimes, though, the BBC does stupid things just because it fails to research something properly. Take today's episode of the really quite interesting radio programme, Material World, which you can listen to for the next week by clicking on the link below (the question is raised about 25 minutes in):
http://www.bbc.co.uk/programmes/b00vhg9y
The item in question concerned carbon capture and storage, which had been correctly identified by a listener as a commercial failure waiting to happen, to which everyone involved in opposing the industrial system would no doubt add is just another way of keeping the machine of destruction running.
The respondant was Professor R. Stuart Haszeldine, announced as Professor of Carbon Capture & Storage at Edinburgh University. He responded that although there were potential losses in energy, big improvements would be made in the future. The technology was certainly not commercially problematic.
What the BBC failed to point out was that Professor Haszeldine's full title is Scottish Power Professor of Carbon Capture & Storage, Edinburgh University: just two more words, but two words that reveal a huge conflict of interest. A quick internet search uncovers this recent announcement by Scottish Power:
ScottishPower Sponsors UK's First Academic Alliance to Focus on Carbon Capture and Storage

9 September 2010

ScottishPower has announced its sponsorship of the UK's first alliance between industry and academia to focus specifically on carbon capture and storage (CCS), which is the ground-breaking technology designed to remove CO2 from the exhaust gasses at fossil fuelled power stations. This will be known as the ScottishPower Academic Alliance, SPAA.

SPAA has been designed to match the needs of the UK's fast developing CCS industry with the research capacity of some of the country's leading academics from Imperial College London and the University of Edinburgh. It will focus specifically on technical innovation around the capture and offshore storage of CO2, the policy and regulatory aspects of CCS and look at what the UK needs to do to capitalise on the commercial opportunities the technology offers – especially in developing a national skills capacity.

ScottishPower is investing almost GBP5 million over the next five years which will fund up to 12 full-time researchers working at University of Edinburgh and Imperial College London. ScottishPower will seek to leverage this funding through further contributions from Government and international sponsors which it hopes will consolidate the UK's growing reputation as a centre of excellence for this embryonic industry.

Nick Horler, ScottishPower's Chief Executive, said: "This is a terrific step forward for ScottishPower and will help us in our ambitions to make CCS a reality in the UK by 2014. I am enormously proud to be associated with the work of some of the world's leading authorities on CCS. Their input will be vital to improve our understanding of this essential technology and help us to reduce CO2 emissions and tackle climate change."

Professor Stuart Haszeldine, ScottishPower Chair of CCS at University of Edinburgh, said: "Developing a CCS industry in the UK will capitalise on our established offshore and engineering expertise and make a significant contribution to the economy of the country, creating new jobs and skills. I am pleased to be building on the CCS research results the University of Edinburgh has already achieved with ScottishPower, and to welcome Imperial College London as partners. The expertise of all three organisations will help to maintain the UK's leading position in CCS."
Thanks for that unbiased and balanced opinion on CCS, Stuart; and thanks BBC for that superb boost to Scottish Power's CCS efforts – truly an excellent investment on the part of the energy industry…
UPDATE: As a result of a formal complaint that I made (and possibly this article) the text accompanying the podcast has been amended to read: "…and Professor Stuart Haszeldine, whose chair at Edinburgh University is supported by Scottish Power for research into carbon capture and storage." I suspect this kind of oversight will not happen that often now.
Posted in Funding, Media Hypocrisy, Offsetting | No Comments »