Posted by keith on November 18th, 2010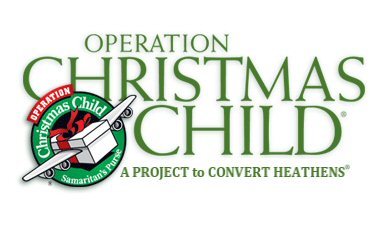 Somewhere in the minds of millions of children there exists a place where Christmas is every day, and gifts appear beneath the eternal tree and at the foot of the magical fireplace whenever their back is turned. In the hearts of millions of children the joy of giving is equally precious as the joy of being the recipient of gifts, given in good faith and without prejudice. This Christmas as every Christmas for the last 20 years, the organisation called Operation Christmas Child has been hard at work across the world persuading children, along with their parents, to pack a shoebox with simple things to provide a seasonal present to someone without the financial ability (or desire) to have such things.
In the UK, the message is clear:
Operation Christmas Child is the largest children's Christmas project in the world, run by the Christian charity Samaritan's Purse. In 2010, we celebrate 20 years of this special shoebox appeal, which has already brought joy into the lives of over 80 million children worldwide.

In its simplest form, it is all about a gift – given by you to a child in need. You wrap and pack it, we check and send it, and our partners overseas deliver it. It's that simple.

Last year, over 500,000 people from right across the UK and Ireland got involved – including many churches, schools and workplaces. Children and adults alike wrapped and packed almost 1.2 million shoeboxes (from the UK) and over 200,000 (from Ireland) full of gifts and goodies, which were then sent to orphans and vulnerable children living in often difficult circumstances overseas
This is a message of God's love allowing those with to help those without. Ok, so there is the matter of this being a Christian charity: "For the past 20 years, Operation Christmas Child has shown that there's power in a simple gift. It has grown to become the largest Christmas shoebox appeal in the UK, demonstrating God's love in a tangible way to millions of children around the world." But who are we to begrudge believers the ability to be generous from their heart.
And now the American version:
8 MILLION CHILDREN received your shoe boxes last year

OVER 130 COUNTRIES have received shoe boxes since 1993

ONE MISSION: To demonstrate God's love in a tangible way to needy children around the world, and together with the local church worldwide, to share the Good News of Jesus Christ.
Same organisation, different wording: now it is a mission, with the aim of spreading The Word. I guess the USA has a greater tolerance to Evangelism than the UK for, make no mistake, that is what Operation Christmas Child is about. For a few years a small group of people have been trying to make this clear to the millions of children and adults who take part in the scheme that the "gift" being sent by the parent organisation Samaritan's Purse, is not the box, but the message that comes with the box. Here's a frame from that message: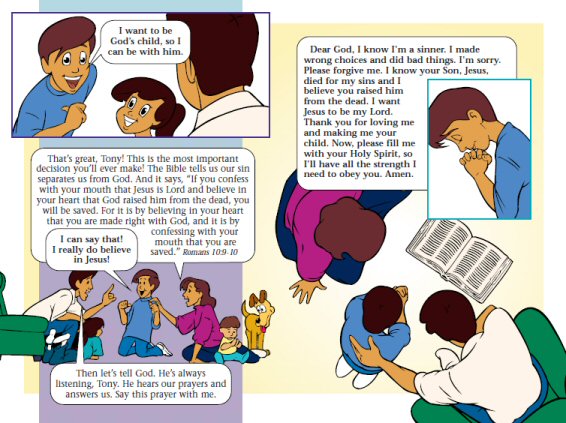 It is the stated aim of Samaritan's Purse that wherever possible the booklet "The Most Important Story Ever Told" is to be enclosed in or accompany every shoebox – that is why the boxes are not allowed to be sealed prior to shipment: so that the literature can be enclosed where the destination country has deemed it acceptable. Of course, even if the destination country doesn't allow the booklet inside, it will be sent with the box. As OCC Alert UK was told, when posing as a supporter:
Greetings from Samaritan's Purse and Operation Christmas Child.

You are correct in your assumption that "The Most Important Story Ever Told" and "The Greatest Gift Of All" are basically one in the same. Samaritan's Purse has adopted this version for distribution with each shoebox gift as a tool for evangelism. Should you need additional assistance, please let us know. It is because of caring people like you that this project is so successful. Have a blessed day!

Sincerely,

Jessica Tabler
Operation Christmas Child
Samaritan's Purse
P.O. Box 3000
Boone, NC 28607
(828)262-1980 ext. 1493
jtabler@samaritan.org
www.samaritan.org
Despite the nice words of OCC in the UK, the shoebox is a tool for evangelism.
Now let's suppose you are the kind of person who maybe tolerates, or even welcomes, the conversion of non-Christians into Christians; after all, it is the duty of a Christian to convert others to their faith. What would you think if I told you that the organisation responsible for Operation Christmas Child views all other beliefs as "dark", to the extent that people who do not follow the particular form of Evangelical Christianity espoused by their leader, Franklin Graham, are accused of witchcraft and occultism?
This excerpt from the newsletter of October 2009 makes me feel sick:
I'd like to share with you just one story about what God did in a little village in the Democratic Republic of Congo.

Mimbulu is a collection of mud-brick houses and thatched huts with no electricity or running water. Most of the villagers are subsistence farmers living on far less than $1 a day. You can imagine how happy and excited the children were when our team handed out shoe box gifts from Operation Christmas Child. Later, hundreds of girls and boys signed up for our Discipleship Program, and most of them made commitments to Jesus Christ through the Bible study course.

Traditional religions and occult practices are common in this part of Africa, but many people in Mimbulu have been delivered from spiritual darkness as a result of this evangelistic outreach. Three girls, all under the age of 10, confessed to being involved in witchcraft, repented of their sins, and accepted the Lord Jesus Christ. One cult leader, after reading his son's Bible lessons, renounced his false religion and surrendered his life to the Lord. Other adults turned to Christ at the graduation ceremony where they heard their children recite Scripture and listened to a pastor preach the Gospel.

The Lord is doing great things in Mimbulu, and we give Him all the glory!

We treat every single gift box as a Gospel opportunity. That's why prayer is the most important thing we ask people to do when they pack their shoe boxes for Operation Christmas Child. We want each person to pray for the child who receives the box and ask God to touch that child's heart. That's where the real power of Operation Christmas Child lies—in God's answers to those millions of heartfelt prayers.
Next time someone asks you to pack a shoebox for Operation Christmas Child, or your child receives a letter home from school asking for a "gift to make a child happy", think about the level of hardline fundamental evangelism being foisted upon people whose only "sin" was to have their own cultural beliefs. Do you really want to be responsible for that?