Posted by keith on 27th January 2011
Below is a long list of chemical compounds and elements. This is not just an ordinary list, for it is special in all sorts of ways – not least of all to anyone who is a supporter of our old friends The Nature Conservancy. The list contains just those substances that the US Environmental Protection Agency deem it necessary for companies to declare, and which have been declared by one particular company, for just one site:
1,1,1,2-TETRACHLOROETHANE
1,1,1-TRICHLOROETHANE
1,1,2,2-TETRACHLOROETHANE
1,1,2-TRICHLOROETHANE
1,2,3-TRICHLOROPROPANE
1,2,4-TRIMETHYLBENZENE
1,2-DICHLOROBENZENE
1,2-DICHLOROETHANE
1,2-DICHLOROETHYLENE
1,2-DICHLOROPROPANE
1,3-BUTADIENE
1,3-DICHLOROBENZENE
1,3-DICHLOROPROPYLENE
1,4-DIOXANE
2,2-DICHLORO-1,1,1-TRIFLUOROETHANE
2,3-DICHLOROPROPENE
ACETALDEHYDE
ACRYLAMIDE
ALLYL ALCOHOL
ALLYL CHLORIDE
ALUMINUM (FUME OR DUST)
AMMONIA
ANTHRACENE
ANTIMONY
ARSENIC
ASBESTOS (FRIABLE)
BARIUM COMPOUNDS
BENZENE
BERYLLIUM
BIPHENYL
BIS(2-CHLORO-1-METHYLETHYL) ETHER
BROMOFORM
BROMOMETHANE
CADMIUM
CARBON DISULFIDE
CARBON TETRACHLORIDE
CERTAIN GLYCOL ETHERS
CHLORINE
CHLOROBENZENE
CHLORODIFLUOROMETHANE
CHLOROETHANE
CHLOROFORM
CHLOROMETHANE
CHROMIUM
COBALT COMPOUNDS
COPPER COMPOUNDS
CUMENE
CYCLOHEXANE
DIBENZOFURAN
DICHLOROBROMOMETHANE
DICHLOROMETHANE
DICHLOROTRIFLUOROETHANE
DICYCLOPENTADIENE
DIOXIN AND DIOXIN-LIKE COMPOUNDS
EPICHLOROHYDRIN
ETHYLBENZENE
ETHYLENE
ETHYLENE GLYCOL
ETHYLENE OXIDE
ETHYLIDENE DICHLORIDE
FORMALDEHYDE
FORMIC ACID
HEXACHLORO-1,3-BUTADIENE
HEXACHLOROBENZENE
HEXACHLOROETHANE
HYDROCHLORIC ACID (1995 AND AFTER 'ACID AEROSOLS' ONLY)
LEAD
MANGANESE
MERCURY
METHANOL
METHYL ISOBUTYL KETONE
N-BUTYL ALCOHOL
N-HEXANE
NAPHTHALENE
NICKEL COMPOUNDS
NITRATE COMPOUNDS
NITRIC ACID
PENTACHLOROBENZENE
PENTACHLOROETHANE
PHENANTHRENE
POLYCYCLIC AROMATIC COMPOUNDS
PROPIONALDEHYDE
PROPYLENE
PROPYLENE OXIDE
PYRIDINE
SELENIUM
SILVER COMPOUNDS
STYRENE
SULFURIC ACID (1994 AND AFTER 'ACID AEROSOLS' ONLY)
TETRACHLOROETHYLENE
THALLIUM
TOLUENE
TRICHLOROETHYLENE
VANADIUM (EXCEPT WHEN CONTAINED IN AN ALLOY)
VINYL CHLORIDE
VINYLIDENE CHLORIDE
XYLENE (MIXED ISOMERS)
ZINC COMPOUNDS
But not only is this a list of substances merely declared, it is a list of substances that have been released into the environment beyond the legal boundaries of the site: The Dow Chemical plant, Plaquemine, Louisiana. Every one of these substances is classified as a pollutant by the EPA; every one of these substances is out of the control of Dow Chemical.
This list is not from 1940, or even 1970, but 2009. In 2009, this one plant released half a ton of lead; a pound of dioxin; 12 tons of benzene; 32 pounds of mercury…go and look for yourself if you want. It's all in a handily downloadable file.
This is just one site, albeit a big one, from the EPA list, which only covers the USA. According to Dow Chemical themselves, "China is Dow's second largest country in terms of sales, with 5 business centers, 20 manufacturing sites and approximately 3,900 employees." That's one more nation: 20 more sites, none of which are under such close scrutiny as in the USA.
The nature of Dow Chemical is the manufacturing and processing of industrial products. This is a good snapshot of the corporation:
The Dow Chemical Company is the world's second largest chemical company, behind only BASF. Dow's primary industries are chemicals, herbicides, pesticides, agricultural sciences and plastics. Dow's main business is supplying chemicals to other industrial and chemical companies. Using oil, coals, natural gas, salt, brine and other basic inputs, Dow makes inorganic chemicals like soda, solvents, and chlorine, and organic chemicals like acetone, ethylene glycol, glycerine, phenols, etc. Dow is also the biggest plastics manufacturer in the world.
The page from which this comes is required reading for anyone who wants to absorb (and, no doubt, your body already has) the nature of Dow's business. Like any corporation, they exist to make money for their shareholders – and like any corporation, if they can get away with something to increase shareholder profit then they will. It's the nature of capitalism; the name of the game.
If you visit Dow's website, then you will notice something truly striking: a bloody great mountain; a pristine lake; desert sands and an ocean full of tropical fish. That thing about getting away with something – Dow have mastered the art. While few people will ever read the EPA reports on Dow's toxic releases, many people will go to Dow's website and be confronted with a tableau of nature's bounty, and the following words:
The Nature Conservancy Collaboration
Leaping in head first to the challenge of "protecting nature" in partnership with Dow chemical is The Nature Conservancy, which Dow have kindly furnished with $10 million over a five year period.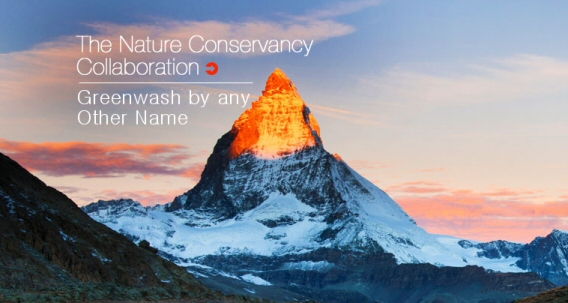 According to TNC: "The Nature Conservancy and Dow Chemical Company are working together on a breakthrough collaboration to demonstrate that protecting nature can be a global business strategy – and a corporate priority. Dow and its foundation together have committed $10 million over the next five years to develop tools and demonstrate models for valuing nature in business decisions. With the help of the Conservancy, Dow will work to incorporate biodiversity and the value of nature into its company-wide goals, strategies and objectives. With support from Dow's foundation, the Conservancy will use lessons learned, collaborative scientific analyses, and its own conservation experience to pursue wide-spread use of these conservation tools by other companies."
$10 million may seem like a lot of money to you and me, but to Dow Chemical it's just 0.3% of their annual profit (as of 2009) – yes, that's profit, not income, which is 3 times as much. Actually it's even less because Dow can claw much of that investment back in charitable giving rebates. And what do Dow Chemical get for that $2 million a year?
They get branding – everywhere, on their websites, on the Nature Conservancy's website, on their corporate materials (The Nature Conservancy logo), on every billboard and TV ad they are no doubt planning to roll out in order to make the most of their "partnership".
They get fantastic PR – just do a quick search on "Dow Chemical" and "Nature Conservancy" and as of today there are 115,000 hits on Google. More specifically, do a search for "Dow Chemical" and "protecting the earth" and you get 2,590 results and counting. Dow look like a great, green company.
They make money – just look at the wording of the joint press release from Dow and TNC:
MIDLAND, MICHIGAN – January 24, 2011 – Andrew Liveris, chairman and chief executive officer of The Dow Chemical Company (NYSE: DOW) and Mark Tercek, chief executive officer of The Nature Conservancy jointly announced today a new collaboration between the organizations to help Dow and other companies recognize, value and incorporate nature into global business goals, decisions and strategies. The senior leaders issued the news to some of the world's foremost business, environmental and sustainability leaders, dignitaries and media at the Detroit Economic Club.

The global organizations will work together to apply scientific knowledge and experience to examine how Dow's operations rely on and affect nature. The aim of the collaboration is to advance the incorporation of the value of nature into business, and to take action to protect the earth's natural systems and the services they provide people, for the benefit of business and society. One of the major objectives of this collaboration is to share all tools, lessons learned and results publicly and through peer-review so that other companies, scientists and interested parties can test and apply them.

"This collaboration is designed to help us innovate new approaches to critical world challenges while demonstrating that environmental conservation is not just good for nature – it is good for business," Liveris said. "Companies that value and integrate biodiversity and ecosystem services into their strategic plans are best positioned for the future by operationalizing sustainability. At Dow, we see sustainability as an adjective and one that we apply to almost everything we do: sustainable manufacturing, sustainable solutions and sustainable opportunities to constantly add to the quality of life for our communities and fellow citizens. Today, tomorrow, always."
What a crock of shit! I have emphasised the parts that betray the true reason for the deal because they have so carefully been wrapped in a shawl of greewash, ably assisted by one of the largest NGOs in the world. Dow Chemical have hamstrung not only the business-friendly Nature Conservancy, but anyone who really believes that business can work in partnership with nature.
The whole concept of "nature" as an entity is alien to the business world except as a resource to be exploited for profit; the PR copy version of "Nature" might benefit – hey, want to see a pristine lake protected by Dow's money? – but look beyond that lake, into the soil, the underground water supplies, up into the air, down through the oceans and weaving our way through the organic tapestry of life that is being picked apart, terminally frayed by the activities of the industrial world. Look beyond the glowing, rhetoric laden bullshit touted by companies like Dow, dutifully spewed out by dangerous NGOs like The Nature Conservancy, and you see something that should never have been.
A ruined world: Today, tomorrow, always.
Or at least until the industrial system is gone.
Posted in Campaigns, Corporate Hypocrisy, NGO Hypocrisy, Sponsorship | 8 Comments »