Posted by keith on January 10th, 2011

I make no apologies for the title of this post: I have just spent a short while reading the biographies of the Mother Nature Network Team, and have ended up in the kind of moral position that Immanuel Kant might have struggled with if he had had the internet to contend with in his philosophical struggles.
MNN promotes itself as covering "the broadest scope of environmental and social responsibility issues on the internet. And, we do so in a way that is engaging and easy-to-understand. As opposed to scientists, activists or experts—MNN is designed for the rest of us—everyday people who simply want to make our world better."
So who are these people referred to as "the rest of us"? Clearly not scientists, activists or experts – although I would have thought that these people would at least play some part in making "our"* world better – but perhaps people such as those on their team. Now I don't pretend to have a squeaky clean career path leading (or rather, nothing at all to do with) my current vocation as a DIY troublemaker; but nor do I proudly exhibit all the companies I have worked for, as though this is somehow a qualification for making the world better. Unlike their CEO, Joel Babbit, who was a high-flying PR guru whose "clients have included The Home Depot, Coca-Cola, Dell, USA Today, American Express, Holiday Inn, UPS, and Citigroup [and] is especially noted for his marketing work related to corporate transitions which have included the acquisition of RJR Nabisco by KKR, BellSouth by AT&T, Georgia –Pacific by Koch Industries, and numerous acquisitions during the formation of Coca-Cola Enterprises."
Hmm. As I say, your past is not necessarily a guide to your future, but I'm slightly worried that this is considered relevant enough to highlight on your bio page, Joel.
Go further down the list, and it seems MNN is actually a big party for PR, marketing and technical bods rather than something to make "our"* world better.
*Ah yes, the asterisk; that's because it is not "our" world, it is "the" world. We don't own it, just happen to misuse it.
So what of the stories on Mother Nature Network? I picked one, that looked as though it would reveal the editorial policy of MNN, something about the Consumer Electronics Show. I would have assumed that to "make our world better" it would have to include an element of criticising the nature of technology, it's ability to consume the human soul while at the same time despoiling vast tracts of land and water with pollution, sucking huge amounts of energy in its usage and making the lives of the millions of people involved in its manufacture anything but human.
This is the crux of the article:
Slick new smartphones, ultra-thin laptops, tablet computers to rival Apple's iPad and Web-connected and 3D television sets are expected to grab the most attention during the four-day event at the Las Vegas Convention Center.

But the show floor will also feature more smart home appliances such as ovens which can download recipes and vehicles which give drivers hands-free voice control access to their smartphone applications.

Technology titans such as Cisco, Intel, LG Electronics, Microsoft, Motorola, Panasonic, Samsung, Sony and Toshiba were among the firms offering a glimpse of their upcoming products to reporters here ahead of the official CES opening.

Motorola Mobility and LG Electronics both announced plans to launch touchscreen tablet computers this year powered by "Honeycomb," the latest version of Google's Android software optimized for tablets.
It's just a copy and paste from Associated Press; no comment, no critique, nothing at all. What the hell does this have to do with Mother Nature?!
Skipping around the site, reveals the news pages to be little more than a catalogue of light-green, consumer and lifestyle editorial, with nary a mention of anything that would actually make a difference to human behaviour; and the reason for the complete lack of anything challenging is made clear at the bottom of the every page: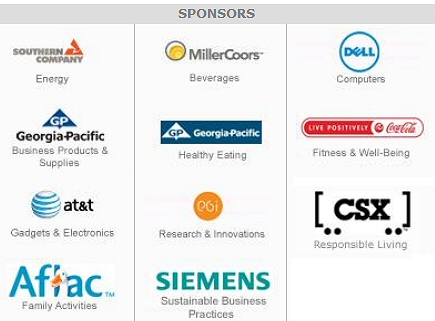 That really is their list of sponsors, each of which has paid to sponsor a section within MNN, and each of which must therefore have been approved by MNN as being appropriate for that section.
Like Southern Company, sponsor of the Energy section – with two giant animated banner ads to show for it – and whose 43 gigawatt generation plant comprises 57% coal, 16% nuclear, 23% gas and – just so they can mention it in their "sustainability" page – 4% hydro. And that hydro plant is largely river-killing dams, in case you were wondering.
Like Georgia-Pacific, sponsor of both the Business Products and Healthy Eating sections, and solely owned by Koch Industries, primary supporters of the Tea Party anti-climate change agenda, and whose own website displays a level of climate change muddle-headedness and disinformation that can only come from a company whose income is dependent upon the continual consumption of dirty energy. For their part, Georgia-Pacific have repeatedly flouted pollution laws and continue to buy timber from illegally logged forests.
Like Siemens, sponsor of the Sustainable Business Practice section, whose business interests include weapons systems, oil and gas ("one of the most important technology partners for the oil and gas industry") and all sorts of heavy industrial managementsystems, including those for nuclear power.
Like Coca-Cola, the water snatchers. Like MillerCoors, behemoths of the brewing world.
Get the picture?
So next time a web site claims it wants to make our world better, it's worth thinking who exactly that "our" is. Could it be the companies who give them the money they need to run the site? Could it be the interests of the people who actually run the organisation? It certainly won't be the world that needs to be given a bit of breathing space from all these corporations in order to recover.