Posted by keith on January 19th, 2011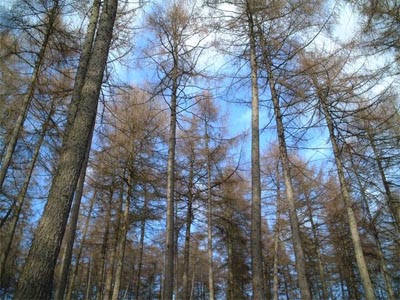 It's commonly called Sudden Oak Death, so why the picture of a stand of larch trees? That's a question well worth asking, but a far more important question is: why has Phytophthora ramorum, the name of the fungus responsible, become such big news in the UK?
Ever since P. ramorum started blowing its way through the great Californian coastal forests in the late 1990s there has, rightly, been great concern for the future of many varieties of oak and other related trees in the western USA; although the impact is so far not as great as some speculators had suggested. Then, in 2010, after some 8 years of the A1 strain of P. ramorum in the wild in the UK, and 6 years or so in other parts of northern Europe including Ireland, the news began to increase at a blistering pace.
In August 2010, a BBC report from Northern Ireland stated:
Whole stands of trees in County Antrim have been killed by a disease known as Sudden Oak Death.

This fungus-like organism attacks anything from larch to rhododendron, and it can devastate wide areas of woodland.

It has already destroyed hundreds of acres of trees in England and Wales and now its here with devastating results.
The accompanying video was suitably doom-laden, using the words: "The effects are devastating, and this didn't happen overnight…this is more like the set from an environmental disaster movie, because that what it really is – a small environmental disaster." Now, consider those words "environmental disaster", and then look at the species that are currently being affected in the UK and Ireland:
In Europe known hosts include the trees and ornamentals described above [all native USA species]. Beech and red oak are the most susceptible tree species so far; infection on these takes the form of extensive bleeding cankers on the trunk. Infected individuals of holm oak (and sweet chestnut have also been reported, but only the foliage is colonised by P. ramorum. With some ornamental species, particularly Rhododendron and Pieris, leaves and shoots are affected, whereas with Viburnum the stem bases are affected.
There is no mention of larch because it was not until 2010 that they began to be affected, possibly through a mutation of the infectious agent. Not entirely coincidentally, it was not until 2010 that Sudden Oak Death became big news in the UK. The reason for this is made very clear for anyone who cares to read the Forestry Commission web pages:
However, few trees in the UK were affected until 2009, when P. ramorum was found infecting and killing large numbers of Japanese larch trees in South West England. Then in 2010 it was found on Japanese larches in Wales, Northern Ireland and the Republic of Ireland.

This sudden change in the pathogen's behaviour was the first time in the world that P. ramorum had infected and sporulated (reproduced) on large numbers of a commercially important conifer tree species. It was also an unexpected setback to efforts to tackle ramorum disease.

We and our partners have moved quickly to respond to this development. Full details about the pathogen and what's being done to research it, minimise its impact, and support affected woodland owners are available at the links on this page.
I didn't start investigating this until today; yesterday I was walking through an avenue of lime trees in my village wondering, with great dispondancy, why the news of Sudden Oak Death had hit me so hard, possibly harder than anything in the last year. I felt that there was nothing at all I could do, I guess. Today I am angry, both with myself for allowing myself to slip into such a deep funk, and with the mass media for taking the bait about this "environmental disaster" hook, line and sinker.
Sudden Oak Death in Europe may be something to be concerned about, but no more than hundreds of other threats to the natural environment, such as water pollution from arable fields, the loss of insect habitats from the same arable fields due to intensive agriculture and the use of broad-spectrum "pest" killers, and the sell-off of vast areas of ostensibly public woodland to commercial interests. The same commercial interests who would love to rip up the varied habitat and plant out great tracts of pine, spruce and larch.
Ay! There's the rub.
The "shocking" news of larch woodland being grubbed up in south-west England, described in armageddon-like tones – the same tones that gave me such a miserable sense of loss:
no-one is sure where it will travel next.

Alison Field, regional director for the Forestry Commission in the south west, said: "We're worried because this is one disease, will there be another?

"And what might we expect with the changing climate, the warmth of the summers, the cold winters, the wetter summers of the future?"
The Forestry Commission is the commercial forestry arm of the UK government. This scaremongering is drawing attention to a disease that is commercially harmful; the outcome, the government and the large timber companies hope, is to make people fear for the future of all woodland, thus allowing huge amounts of money to be pumped into protecting commercial plantations.
Professor David Gowing of the Open University puts SOD into a far more sober context than the shrill media outpourings of recent weeks:
"Sudden Oak Death is not known to affect either of our native oaks, so the name gives the wrong impression to the UK public. In fact it does not currently appear to threaten any of our native trees, so from a nature-conservation perspective, it is not a concern at the moment.

"Indeed some conservationists may see a potential benefit because Rhododendron ponticum, the scourge of woody habitats in the west of Britain, seems to be its preferred host in this country.

"Foresters have valid concerns, however, because the fungus which is responsible for the disease, Phytophthera ramorum, is becoming prevalent on Japanese larch, which is an important commercial species – but no larch species are native to Britain.

"The other tree species reported to have contracted the disease in the UK include sycamore, horse chestnut, sweet chestnut and beech, all of which are considered non-native and may have succumbed to disease following the run of cool, damp summers in 2007-2009.

"Hopefully our native species will prove to be better adapted to such conditions and will keep the fungus at bay."
The saddest part of this is that a syndrome that could actually kill off huge humbers of oak trees – far more than Sudden Oak Death – is being ignored. Acute Oak Decline is something that, if you live in the UK, you will have definitely seen the effect of: leafless oak trees standing like giant naked sentinels in the middle of the fields they once dominated, and blessed with their sprawling, teeming green canopies. Yet this causes barely a ripple in the media – 4 stories on the entire BBC News archive, as compared to 49 stories about Sudden Oak Death – because commerce just isn't interested, and thus the government just isn't interested.
The moral of this sad tale of twisted priorities is thus: if you want to make an environmental story big, make sure it's also a commercial story.