Posted by keith on October 25th, 2011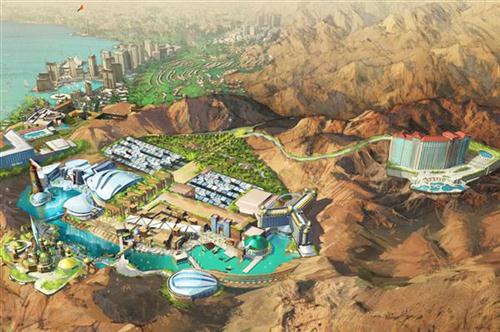 There is part of me wanting this to be a spoof, but most of me knows it's real. I'm talking about the latest hair-brained scheme to tempt the mindless tourist into spending cash, in this case in the state of Jordan.
Hi Keith,

Building a sustainable, energy efficient luxury resort and theme park is an engineering challenge in and of itself: both are traditionally water- and energy-intensive. But in Jordan, where only 10 inches of rain fall per year and energy and water security is always tenuous, achieving as much self-sufficiency as possible is a necessity.

That's why -as you may have heard-the $1.5 billion dollar Star Trek-themed Red Sea Astrarium in Jordan is being built with on-site renewable energy production facilities, integrated grey water and solid waste management systems, and numerous other cutting edge efficiency measures.

The reduction of the potable water use of the resort buildings alone will save 57.6 million gallons per year (as compared to business as usual). That's enough water to serve the annual drinking needs of 303,000 people.

If you're interested, I'd like to connect you with the engineers from Arup that developed the design, for a peek behind the curtain and a frank discussion about the nuts and bolts of the project.

Arup's plans will:
– reduce water and energy usage by up to 20%,
– reduce resort cooling demand by up to 19%, and
– allow the Astrarium to produce 15 to 20% of its energy from on-site using renewables.

Any interest?

Best,
Courtney
chamilton@groupsjr.com

You can learn more about the Red Sea Astrarium here: http://www.arup.com/Projects/Red_Sea_Astrarium.aspx
Clearly Courtney is just a hired drone who takes no interest in her copy otherwise, in the name of all that is holy, she would have realised what an unwittingly hilarious piece of greenwashing PR bilge this is. You only need to try and digest the phrase "Building a sustainable, energy efficient luxury resort and theme park" to realise that. The obvious response is: "So why build the fucking thing in the first place?!"
But I am more polite than that:
This is a joke, yes? A "sustainable" luxury report and theme park that is completely superfluous and about as relevant to the Jordanian culture as building a copy of the Great Wall of China in New York – that's hilarious. Well done.

Keith
No response, and how rude is that? There are three forces at work here – not in preventing a response, you understand, I'm not paranoid – in making such a concept possible in the first place:
1) A nation or corporation that promises to pay a nation, so desperate for money that they will stoop to such incredible depths to make a project like this happen. According to the Business Anti-Corruption Portal:
"Despite the absence of any significant natural resources, Jordan has succeeded in attracting foreign investments through economic reforms and has demonstrated solid economic growth rates, while the government has gradually been implementing policies to improve competition and to foster transparency. The need for such policies have gained strength under the circumstances that Jordan has witnessed and which are strongly related to the public uprisings that have swept the Arabic region since early 2011. Public dissatisfaction with government policies and the rule of law has mobilised the King and the government to initiate reforms to improve the political, economic and social climate of the country."
Which obviously includes attracting as many tourists as possible regardless of the cultural, social and environmental implications of implementing a straight-down-the-middle capitalist attitude. The announcement of the project was made in May 2011:
Rubicon Group Holding (RGH), a diversified global entertainment organization producing innovative digital animated content and location-based attractions, will design and produce The Red Sea Astrarium (TRSA), a 184-acre themed entertainment resort located in Aqaba, Jordan, which, through a license from CBS Consumer Products, will prominently feature an amazing attraction inspired by the 2009 international hit motion picture, Star Trek. The "Star Trek" attraction is being creatively developed by Paramount Recreation.

That announcement was made today by Randa S. Ayoubi, CEO of Rubicon Group Holding, at the Jordanian-American Business Forum, under the patronage of His Majesty King Abdullah II of the Hashemite Kingdom of Jordan, in a special signing ceremony attended by business leaders from Jordan and the United States.
2) An engineering company determined to prove its "green" credentials, despite being a major provider of oil and gas infrastructure, aviation services, mining infrastructure and massive commercial developments. Arup are all this and far more; and as such gloss over their activities with a thick layer of greenwash, everywhere you look. The Astrarium is no exception:
The Red Sea Astrarium (Astrarium) represents an opportunity to demonstrate Jordan's commitment to innovation and sustainable development. Resort developments, particularly those that target a global audience, increasingly reflect the global interest in sustainable development. The Astrarium will be at the forefront of sustainable resort development by implementing Arup's infrastructure recommendations.

The Astrarium is a planned 184 acre entertainment resort and virtual reality theme park showcasing the rich cultural history and future of Jordan and the Middle East. Situated on a soaring plateau close to the Port City of Aqaba, the park includes four hotels, an entertainment district, a man-made saltwater lagoon, and two waterfront areas, one anchored by a 'Star Trek' themed attraction.

Brought in to provide infrastructure planning and design of the development's energy, water, wastewater, solid waste, mobility and logistical management systems, the Astrarium presented a number of challenges to the Arup team. Located 200 metres above sea level in the mountains bordering the Red Sea, the site has no natural source of potable water thanks to the region's arid climate while the development itself will have a substantial energy demand due to the array of attractions and amenities.
Words and thoughts consistently fail me with every sentence of this remarkable piece of rhetorical bullshit. One thing it does wrap up nicely is that there is NO SUCH THING AS SUSTAINABLE DEVELOPMENT.
3) A PR company so willing to bend over and take whatever any corporation cares to shove in their direction that they will deliver, en masse, complete lies in order to make a fast buck.
Anyone wishing to undermine any of these three forces has my complete blessing; if you have any success let me know, I would love to see this all come toppling down.