Posted by keith on April 22nd, 2008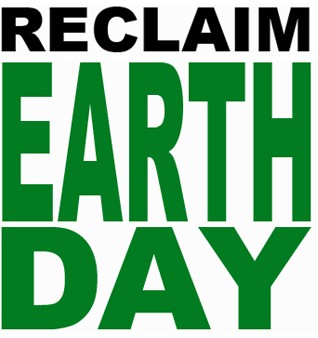 I've had enough of the sanctinomious, corporate marketing of Earth Day, and it looks as though a group in Toronto have had enough too. The Toronto Climate Campaign ran an event on Sunday which reflected almost exactly what I wrote earlier:
In April, 1970, the environmental movement burst onto the political stage with one of the largest grassroots demonstrations ever seen. Between 20 and 25 million people, mostly in the United States, answered the call on the first Earth Day. Event organizers were shocked at the response and marveled at the crowd that drew from every constituency: students and seniors; inner cities and small towns; faith groups and hippies. 
Over the years, corporations began to fund and sponsor Earth Day events, some out of sincere interest, more out of desire to buy "green" credentials. This shifted the emphasis from public rallying to put pressure on politicians and policy makers, to predominantly innocuous and symbolic events. Large scale, interconnected mobilizations were out. Decentralized photo-ops were in. The unfortunate result was, most activists began to ignore Earth Day.
Which is why I will be doing nothing different today. In fact, what I will be doing is what I have been doing every day for years — trying to make my own life as sustainable as possible, while also trying to generate change at all levels.
---
I said I would probably get more self-promoting bandwagon e-mails between my last article and today, and so I did. Here is a choice selection, with the pertinant points highlighted. Bear in mind that these are from people who purport to be "green" but somehow can't help selling stuff:
Why You Need a Plastic Bag Ball
OSSINING, N.Y. (April 15, 2008)-Boredom has lent itself to building balls of rubber bands, and street fairs across America have begged the question, "Can you guess how many jellybeans are in this jar?" As we near Earth Day on April 22, Eco-Bags Products, Inc. is asking green-minded citizens to collect 1,000 plastic bags and build PLASTIC BAG BALLS, to visualize and understand the impact on our planet. Earth Day celebrators are encouraged to document their ball builds and submit photos or video to the community blog My Greenest Hour. Up to ten participants who demonstrate the most environmental prowess will receive one ECOBAG® to carry along on their next grocery trip.
(The full e-mail contained 9 separate mentions of their registered trademarked, incorporated product)
GREENOPIA COMES TO NEW YORK!
New York, NY (April 21, 2008) – A must-have on the West Coast has finally arrived in New York just in time for Earth Day:  Welcome the first edition of Greenopia New York City, a guidebook to green businesses in all five boroughs – from car services and hotels, to nail salons and burial services.  Hitting bookshelves this week, Greenopia New York City makes living an eco-friendly life in the Big Apple easier than ever! 
Featuring more than 1,300 listings of local green businesses and resources, Greenopia New York City is sold online at Greenopia.com, as well as at Barnes & Noble, Whole Foods, Macy's and other area bookstores and specialty retailers. 
The book's suggested retail price is $17.95.
(Just blatant marketing)
Low Carbon Diet Takes Bite out of Global Warming: Earth Day event and online calculator lower carbon footprint of America's favorite foods
Experts available:
* Chefs on Bon Appétit's low carbon eating strategy, from menus to operations management. Celebrity chefs also available.
* Spokespersons from company headquarters, local cafes, and the sustainable food movement
Where:        
* Bon Appétit Management Company cafes in 28 states and major metro areas including: Chicago, San Francisco Bay Area, Los Angeles, Austin, Cleveland, Minneapolis, Washington D.C., Portland, Seattle, and Boston. 
* Visit a cafe in your area on April 22nd to report on the action on Low Carbon Diet day's low carbon meals, educational activities, and diners' reactions to the event.
(I wonder why they are asking you to visit their cafes?)
---
So have fun this Earth Day.
See how much more hypocrisy and marketing you can spot. Sent it to
news@theunsuitablog.com
and I reckon there is a good chance it'll be published!