Posted by keith on December 12th, 2008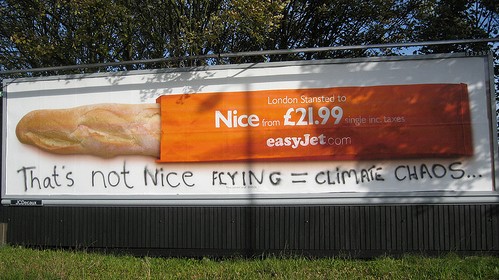 Exposure is what Greenwashers fear most of all — serious exposure can destroy a campaign; it can destroy a reputation; it can destroy a brand; it can destroy a government. It has happened before and it will happen again.
Exposure is the nexus between ignorance and awareness.
On this short journey we have learnt to spot greenwash from a mile away – recognising the tell-tale smirk in the eyes of the publicist and the lies between the lines written in your morning paper. You can spot greenwash.
We have also learnt how to investigate the murky recesses of the greenwasher's mind and dig out the dirt that the corporate lobbyist or the public servant wants to keep hidden away. You can find out their secrets.
Now it is time for the final stage in our journey: Exposing The Greenwashers.
Doing It Right
I'm assuming you have all the information you need to expose the greenwasher, and just want to get it out there. Regardless of whether you do the exposing yourself, or rely on some other willing (or unwilling ;-) ) party to do the exposure for you, there are four factors that will determine the success of your efforts — four factors, that you have control over.
Timing
Timing can be pretty complicated to get right, especially when you are not executing the exposure yourself, but a good rule of thumb is: The quicker the better. As an example of how important this can be; when I found out about the Triangle Of Peace Foundation, I found, to my delight, that they had foolishly neglected to use that phrase anywhere on the Internet, so by investigating and exposing the issues online, and also republishing the article to a few places, I was able to ensure that anyone who looked for information as a result of the newspaper advertisment, would come across my negative article straight away.
Sometimes you need time to investigate properly, though, but that may not be a problem if you happen to have received an embargoed press release: simply carry out the exposure before the embargo date! It's also useful to take advantage of a topical item, such as the annual financial results of a company, to inject a frisson into the proceedings; or perhaps you might want to do something under cover of night (for safety), or at a weekend to ensure your exposure is visible when business opens on Monday morning. However you time it, though, do it while the information is fresh.
Medium
You probably can't afford to buy a minute of peak advertising time on a network TV channel in order to place your alternative message — in fact, the chances of a media cartel ever allowing such a message is slim to none (and slim just left town) so lack of funds isn't necessarily an issue; it's finding a medium that complements both the message you are sending, and also the greenwash that is being purveyed. Obviously web sites are one place to do things, but without an audience you're going to struggle to get your message out. But there are ways to use a medium to best effect — for instance:
– Phoning up a radio station to make an on topic point, then changing the subject halfway through to do your exposure
– Subvertising a billboard or other useful surface close to (or in) a premises belonging to the target
– Inserting information inside magazines and newspapers at news stands / newsagents
– Sending fake letters "from" the organization, or calling up (remember the rules about secrecy) "on their behalf" to give an alternate take on their greenwashing to a journalist or TV station
The medium is not the message, you just need to use your imagination to use the medium well.
Simplicity
Your target audience are probably not going to be in the same headspace as you, in terms of understanding why you are doing the exposure in the first place. Subtlety may be fine for media-savvy showoffs, but clever has to be very clever indeed if the message is to work. The best strategy is just keep it simple. If an oil company are lying about their emissions, say that they are lying about their emissions; if a politician has been a hypocrite, expose the hypocrisy in simple language; if an environmental charity are getting too close to a corporation for comfort, say how uncomfortable this is, and say it loud and often enough to make sure your message gets across.
Simple language; minimum words; clear graphics: maximum understanding.
Scale
You are only capable of doing so much, so don't beat yourself up about not being able to save the world on your own: you can't. Most greenwashing is carried out by organizations with lots of money, lots of contacts and the means to get their lies across to a huge audience; but that doesn't have to matter, so long as you understand the target audience. Let's face it, and here is a BIG CAVEAT: the vast majority of people are not that interested in whether a company is green or not; neither are they that interested in changing their views once they have been set. Greenwash is aimed at those bodies and individuals who are interested, so regardless of whether BP spend millions of Euros telling the world they are the kings of renewable energy, you only need to target those people likely to have been stirred by this message.
It makes things seem a lot easier, doesn't it.
Let's say a big press release goes out saying how Ford are reducing their car plant emissions (while still producing huge SUVs and pickups). Do a search for the text of the release, and you can find out who has reported their lies – you might find that by approaching these very same people, you can embarrass them into retracting, or at least amending their reports; or you might just want to target the fool who blindly pasted the lies into their report, and expose them. It's an idea, at least. What I am saying is that you don't need to operate at the scale of the greenwasher if you are clever enough; a targeted exposure of a very embarrassing fact can be just as effective.
Going Further
It's clear from this article that there are a host of different ways to expose greenwashers; I have only scratched the surface, and you can probably think of lots more. If you feel you're not able to do as much as you want on your own, then perhaps you need to join a network of anti-greenwashers: Earth First! are a good port of call; or you could send out a request via Indymedia; and there is now a Facebook group which might be able to help you out…
Remember, also, that exposing greenwash is an effective form of Sabotage, and when you join the ranks of the saboteurs there is a whole world of change that you can be creating!