Posted by keith on April 23rd, 2008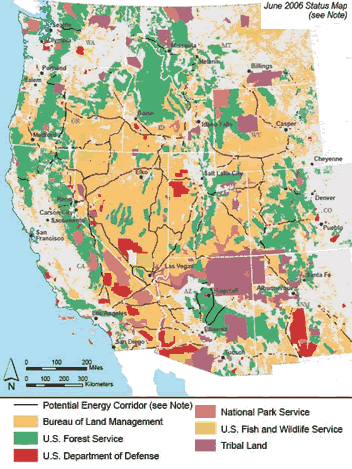 Wasn't it only six short days ago that President Bush stood before the nation and called for the halt of greenhouse gas emissions by 2025? Then why is the federal government, led by the Department of Energy (DOE) and Bureau of Land Management (BLM), planning to power Western cities with a new utility grid that bypasses renewable energy and that incentivizes more coal, oil and natural gas production? 
Called the West-Wide Energy Corridors Process, the reality of this plan is that it's little more than a scheme to build nearly 6,000 miles of "corridors" through nearly 3 million acres of public lands, including national parks and national monuments. Averaging over 2/3 a mile wide and capable of holding up to 35 natural gas pipelines, these corridors will have massive and long-term effects on public lands.
During a congressional hearing last week, energy experts and county, state, and tribal officials testified against the plan and criticized the DOE for not consulting with local stakeholders when designating the corridors. Representative Raúl Grijalva said that on a map the corridors looked like "giant extension cords to existing coal sources."
How can we realistically lower greenhouse emissions if we continue to burn coal and other fossil fuels? Lowering emissions requires a serious commitment to the development and sustainability of renewable energy, but the proposed corridors leave renewables without access to the grid. The feds needs to go back and consult with local and tribal officials, provide access to renewable energy and protect our public lands.
This guest article was written for The Unsuitablog by James Navarro of the Wilderness Society.