Posted by keith on May 5th, 2008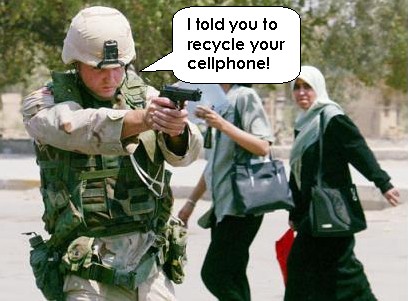 How green is your telecommunications company? Can it match us? AT&T lead the world in compassion and environmental nurturing through four main areas of its business. 
1. Supplying military equipment:
AT&T is an official provider of personal telecommunications services for all five branches of U. S. military at 529 military bases worldwide and on 200 U. S. Navy ships afloat through contracts with AAFES, NEXCOM, MCCS and the Coast Guard Exchange.  (from here)
2. Spying on the public:
Mark Klein, a former technician who worked for AT&T for 22 years, provided three technical documents, totaling 140 pages, to the EFF and to The New York Times, which first reported last December that the Bush administration was eavesdropping on citizens' phone calls without obtaining warrants.

AT&T built a secret room in its San Francisco switching station that funnels internet traffic data from AT&T Worldnet dialup customers and traffic from AT&T's massive internet backbone to the NSA, according to a statement from Klein. 
3. Polluting waterways:
AT&T Corp. agreed to a $25 million settlement of a lawsuitalleging that the company risked polluting ground water with toxicchemicals by failing to properly test and repair hundreds of underground storage tanks for gasoline and diesel fuel, California officials said Tuesday. (from here)
4. Recycling cellphones:
When you donate your used cell phones to Cell Phones for Soldiers, your phones are either reconditioned and reused — or they're disposed of in an environmentally friendly way. Best of all, the proceeds provide free phone cards for U.S. military families.

You can celebrate Earth Day every day. Run a cell phone donation drive in your community — at your office, school, apartment building or place of worship.
Well, that does it for me! Recycling cellphones is such a great thing that I'm just going to forgive AT&T for being a key part of the military-industrial complex, and using their corporate leverage to ensure that their worst secrets go untold (Don Rumsfeld was right when he talked about "unknown unknowns").
I'm not going to comment on the rights or wrongs of Cell Phones for Soldiers — soldiers are human too (even though their leaders clearly aren't) so want to talk to their families — but why are AT&T making such a big deal about their recycling drive, touting it as their Earth Day effort? It's a classic piece of greenwashing designed to make this corporate behemoth look good as they do so much bad stuff.
The Unsuitablog received this from an AT&T employee recently:
AT&T touts its goal to double the number of cellphones recycled  through its stores in 2008, while refusing to provide bins in its offices for employees to recycle non-business paper (i.e. newspapers),  aluminum and plastic. The reason they don't? They say it is too  expensive. The cellphone recycling press release touts how easy it is  to "go green for earth day", but the company doesn't follow through in  other areas. They do provide bins for office paper, but that is only  to protect customer and corporate data; I've been yelled at for  putting newspaper in there. My office used to have bins for  recyclables, but they were removed in the interest of "cost cutting".
When I asked if there were any other examples of environmental hypocrisy, this nugget of information followed:
We are expected to leave our computers on overnight so that "updates can download". They want us to logout and leave Windows at the login screen, and turn our monitors off (not let them go to sleep; turn them off). As a corporate laptop user, I'm not supposed to leave the laptop on overnight, since I have to lock it up. To me, that pretty much indicates that the necessary updates can download just fine in the background as I'm working on other things.

As for corporate excess, their environmental controls policy really needs work. In the summer, the internal temperature is set to 68. In the winter, it's 78. It is not uncommon for people to wear coats at their desks during the summer and having to use fans (to no avail) in the winter.
So there's a company acting both globally (bad) and locally (bad). AT&T, welcome to the Greenwashing Elite!
---
N.B. If you have any examples of corporate greenwashing then The Unsuitablog welcomes them. All sources will be kept anonymous upon request. Just e-mail
news@unsuitablog.com
.