Posted by keith on May 15th, 2008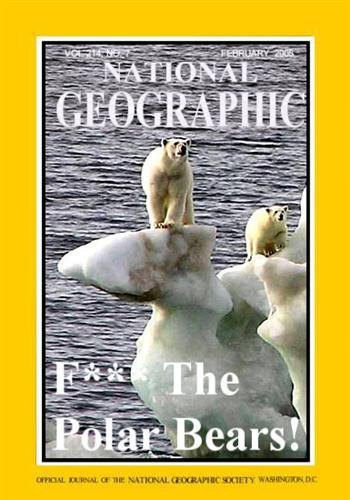 This month at your local news stand, and in supermarkets up and down the Western world, you will find National Geographic Magazine devoting an entire issue to the realities of climate change. It's their "Changing Climate" edition. It's not the first time National Geographic has featured on The Unsuitablog: last time they were filling their regular editions with car adverts, showing that their primary motivation is to make money.
But, a whole edition on climate change, surely they wouldn't stoop so low as to place unsuitable adverts, would they? I didn't need to read the text to know that it would contain the usual superficial sycophantic articles about issues that need to be given the acid rather than the warm flannel treatment — we are talking about global catastrophe here, guys! I also didn't need to read the Solutions section to know that the only solutions presented would be straight out of Ikea and Walmart, and nothing to do with actually changing the way humans live.
I didn't have to read the text, but I did — and I was right on both counts. But one thing that struck me was the apparent absence of adverts throughout the magazine; a pleasant surprise, I may add, considering the normal consumer rush that readers are subjected to each month.
And then I looked inside the front cover:
ConocoPhillips. A full page advert telling us that they are funding university courses, brainwashing the minds of tomorrow into the ways of the oilman. Yes, ConocoPhillips, major stakeholder in the Syncrude partnership, extracting millions of barrels of thick, carbon-intensive oil from the tar sands of Canada. ConocoPhillips, major supporter of the hopelessly polluting coal to ethanol technology, and all round destroyer of ecosystems across the globe.
As I put the magazine back on the shelf, I glanced at the back cover. There, staring at me, bathed in the verdant, lush glow of a forest canopy, proudly sitting on a rough dirt track, was a Chevy Tahoe Hybrid. "Green Vehicle Of The Year" despite notching up a piss-poor 21 MPG fuel economy. Chevy, makers of a sizable chunk of the most polluting cars in the USA and recent stars of The Unsuitablog.
Thank you for this eye-opener, National Geographic Magazine: three great greenwashers all coming together in a symphony of shit. I bet you are so proud of yourselves!