Posted by keith on July 28th, 2008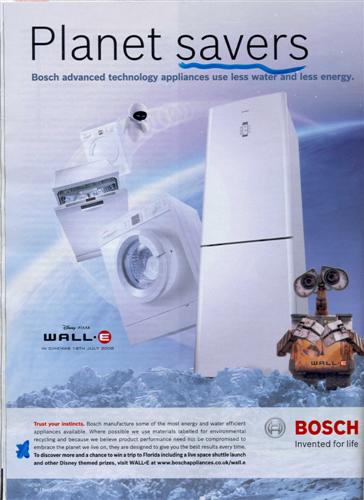 A few years ago, before I had hit the "green curve" (as BP like to call it — more of that in another post) I bought a dishwasher. I still have one — not the same one, which eventually broke down irreparably, but an identical model which someone else was throwing out — and because my hot water doesn't come from renewables yet, but my electricity does, we still use it. It's a Bosch, an "AA" rated one, which means it doesn't use much electricity or water. But (big but) we don't actually produce a lot of washing up compared to the average family; we reduce the need to wash before actually washing. That's just common sense.
When Bosch — who, quite frankly, exist solely to sell appliances — come out with an advert entitled "Planet savers" (note my annotation in the picture, being rather cross when I read it) I have to be very suspicious indeed. The implication is that their products are actually saving the planet. Forget the fact that you might have no washing up at all to do, or you boiled your washing up water on a wood stove — if you buy a Bosch product then you are SAVING THE PLANET!
Does that seem a little disingenuous on behalf of the planet to you? Like all "techno fixes", when you imply technology has a critical part to play in the restoration of the Earth's natural systems and habitats to their previous state, you are effectively saying that nature can't do things well enough on its own. That is certainly true when bombarded with pollutants and greed-driven destruction; but remember that the pollutants and greed-driven destruction are the result of human (more accurately, Civilized Human) agency. Nature doesn't need technology — commerce and growth needs technology.
It gets worse, though. You might not be able to read the small print at the bottom of the advert, so here it is, with the original emphasis shown:
"Trust your instincts. Bosch manufacture some of the most energy and water efficient appliances available. Where possible we use materials labelled for environmental recycling and because we believe product performance need not be compromised to embrace the planet we live on, they are designed to give you the best results every time. To discover more and a chance to win a trip to Florida including a live space shuttle launch and other Disney themed prizes, visit WALL.E at www.boschappliances.co.uk/wall.e"
Words fail me. I only have so much tolerance for bullsh*t.