Posted by keith on October 21st, 2008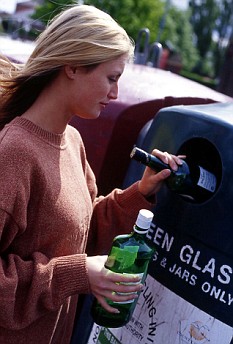 A strange determination struck me while on a run this morning: it was while passing a front "garden" that had been block-paved, leaving a little space for a minuscule flower bed and, get this, a patch of grass four feet by one foot. This was not just any grass, though, it was astroturf! What could have passed through the minds of the people who laid this tiny eccentricity in front of their house:
"You know what, we're going to have too much paving in the front, we need a bit of greenery."
"But we need to park three cars."
"Ok, let's plonk down a few petunias in a tiny brick flower bed, and some astroturf."
Maybe the conversation didn't go exactly like that but, as I say, the thought of this made me determined not to let readers get smug about the various environmental crimes that corporations and authorities are carrying out — your own back, or front, garden is probably not that rosy either: you are probably greenwashing.
– Every time you do the recycling and you think it's ok to generate waste, you are greenwashing.
– Every flight you take and you offset your emissions, use public transport to get to the airport or do some other act of servitude, you are greenwashing.
– Every piece of electrical equipment or furniture you buy new and then take your old one to the charity shop, or sell it second hand, you are greenwashing.
– Every car journey you take during which you decide not to use the air conditioning to save fuel, you are greenwashing.
– Every tree you plant, while putting your money in a bank that makes money out of deforestation, you are greenwashing.
– Every time you say to someone else that you care about the planet, then go on and do something environmentally irresponsible, you are greenwashing.
– Every time you do something that damages nature and then carry out some minor act in order to assuage your guilt or make you appear "green", you are greenwashing.
I am not about to cast down every trivial act of environmental improvement, in some cases they may be useful first steps, and sometimes you don't have a choice in this society but to do something a little damaging; but in many other cases these acts of Domestic Greenwashing simply act to attach you to the way of living that has caused the global environmental catastrophe in the first place. By making yourself feel that trivial positive actions permit major negative actions, you are assisting Industrial Civilization in its relentless grinding down of natural processes in order to fulfil a hopelessly outdated dream.
You don't have to be part of that dream, and you don't have to be a hypocrite. You are better than that.