Posted by keith on November 2nd, 2008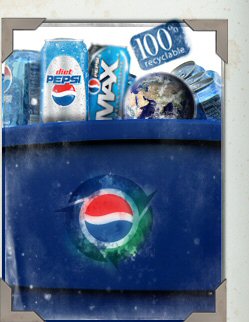 Let's suppose you have a global brand that you know full well is responsible for mass ecological and social damage, not only directly through the consumption of water, energy, metals and land, along with annual greenhouse gas emissions of 3.8 million tonnes (the same emissions as the whole of Paraguay); but also indirectly through the huge commercial infrastructure that exists to produce, distribute, promote, sell and dispose of your products; and not least the great efforts you spend trying to homogenise entire cultures in order that you can sell as much of your product as humanly possible.
So, given that — and the fact that your company group also does the same, and worse, through its other products, including a vast array of snack food and, through contractual guarantees, gains incredible marketing presence via some of the largest junk food outlets in the world — you might just want to improve your image a bit in a market that, at least commercially, values being "green" as increasingly a good thing.
What you don't want to do is send a press release out to an anti-greenwashing web site extolling the commercial advantages of such a move; especially as the web site is likely to print the press release in full to show how utterly hypocritical you are, with the more important points show in bold:
Pepsi, today, is launching not one, but two Web sites trumpeting its eco-friendly efforts [1]. PepsiEcoChallenge.com and Pepsirecycling.com both spotlight Pepsi-Cola North America's slew of sustainability programs.
The more promotional site, Pepsirecycling.com, offers consumers 100 Pepsi Stuff points for taking a quiz about recycling. Points can be redeemed for prizes, like shirts made from recycled materials, and entrance into a sweepstakes for a Smart car [2]. Pepsirecycling.com offers a myriad of information about recycling as well as origami instructions for used 12-pack cartons [3].
"We're putting recycling front and center and giving our customers an incentive to do their part for the environment," said Victor Melendez, vp-marketing, sustainability for PCNA, Purchase, N.Y., in a statement. "Pepsi has always stood for fun and now we're channeling that Pepsi spirit into raising environmental awareness."
PepsiEcoChallenge.com reads more like an interactive brochure [4] that explains how the company is working to save energy and water as well as working to create sustainable packaging. The home page reads: "Many Pepsi fans remember the days of Pepsi challenge . . . Today we heed a different call and face a different challenge, one that cuts across brands, companies, industries and even continents-the challenge of environmental stewardship, protecting our planet's resources for generations."
It points out Pepsi is working to reduce its U.S. plants' water consumption by 20%, electricity usage by 25% and fuel consumption by 25% by 2015.
Because a segment of consumers demand eco-accountability from their favorite brands, such efforts are of increasing importance [5], said John Sicher, editor of Beverage Digest, Bedford Hills, N.Y. "There is certainly growing interest among consumers in buying products from socially responsible companies," he said. "It's important that big companies like Pepsi reach out and show decision makers and decision influencers [6] that they are taking a lead in this."
Pepsi spent $11 million online last year [7] and $9 million for the first seven months of 2008, per TNS Media Intelligence.

A few comments from the above:
[1] Why "trumpeting", surely just doing it is what matters – if you are an "eco friendly" company, then you don't have to tell everyone about it, do you?
[2] Yes, what about a Smart Car, that'll make the customer feel better and, more importantly, make them think the prize giver is a real swell company.
[3] I wonder why they haven't talked about just doing craft for the sake of it? Could it be they want you to buy some 12 pack cartons?
[4] Well, of course it's a brochure, because we are talking about corporate marketing here.
[5] Here's the big "reveal": because it's what "consumers demand", then it would be commercial suicide not to appear "eco friendly"
[6] Slightly sinister, this: by showing "decision makers" what they are doing, it prevents "decision makers" from making laws and policies that might force Pepsi to make significant changes. This is a self-protection mechanism.
[7] Why on Earth would this be relevant, unless it was aimed at those who want to also gain commercially from Pepsi's efforts – maybe by getting Pepsi to advertise on their "eco" web sites. Hmm!
Something also struck me, while I was browsing the Carbon Disclosure information about PepsiCo. The following statement makes very clear that the Earth Institute at Columbia University is nothing more than a commercially funded set of projects designed to benefit monied corporations — I will be following up on this later…
As for PepsiCo — they are just another corporation desperately trying to look good in order to take a bigger slice of the market.