Posted by keith on November 20th, 2008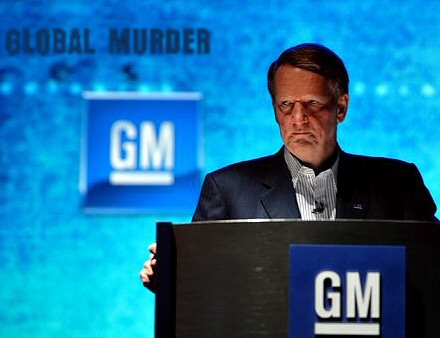 Following my little pop at General Motors yesterday, Phil Colley, an account executive at MSL Communications (take a look at their fabulous client list here) took issue with some things I said, commenting as follows:
I'm with GM and we're sorry that you, like some in the green community, choose to attack any effort to help the environment – short-term or long-term – that doesn't come from your pre-existing "approved" list. If you are interested in moving from rhetoric and accusations to questions or genuine dialogue about E85 and longer-term efforts, we are ready. In fact, our discussions with other E85 critics on the blogs have been beneficial for everyone involved, including us.

People are often surprised to learn that since the 1970s, GM has reduced smog-forming emissions from our vehicles by more than 99 percent. Our new vehicles are so clean today that painting a room with one gallon of water-based latex paint will generate more smog-causing emissions than driving a GMC SUV from Toronto to Vancouver and back again. Over the last three decades, the average fuel economy of our car fleet has increased 130 percent and our light truck fleet average has almost doubled. We offer more models that get 30 miles per gallon or better on the highway than any other manufacturer, and 13 of our last 15 new product launches in the U.S. have been cars or crossovers.
You can see my response right after his, but I have no intention of stopping there, because a company like General Motors deserves more than just one article on The Unsuitablog: there are so many dispicable activities to choose from (both past and present) that I only have space here for a few of them.
1. The Global Climate Coalition
The GCC was set up in 1989 as a corporate counter to the emerging strong evidence that carbon dioxide was a major factor in changing the global climate: General Motors was a founder member and major funder to this grandaddy of astroturfs. In fact, the GCC were instrumental in George Bush Jr's 2001 decision to reject to Kyoto Protocol — GM may have left in 2000, but by that time their work was done, and they decided to get out before their public image took too much of a pasting. This is not ancient history, and General Motors have a very recent history of climate change denial funding…
2. Other Deniers
The Competitive Enterprise Institute, most famous for its "Carbon dioxide: they call it pollution, we call it life" advertisements, is a long-term, powerful AGW denial lobby group, which received funding from General Motors for many years.
Tech Central Station is a global warming denial advocacy group which, with General Motors as a major funder until 2006, was singled out by the US Senate as one group "whose public advocacy has contributed to the small but unfortunately effective climate change denial myth."
The Alliance of Automobile Manufacturers, of whom General Motors is a key member, have been running adverts pushing against decent fuel economy standards, in order to protect the SUV and light truck market.
This is just a sample of the groups GM has funded.
3. Environmental Lobbying
The US Government demand that lobbyists file quarterly reports of lobbying activity, details of which are available at the Lobbying Disclosure web site. General Motors spend a lot of money on lobbying…here are the details for the last four quarterly reports:
Q3 2008 (http://disclosures.house.gov/ld/pdfform.aspx?id=300102461): $2,700,000 total spend
Bills targeted include: Climate change (S.2191), CAFE (H.R.5560, S.2555), Biogenerics Legislation (S.1695 et al), Railroad Antitrust Enforcement (H.R.1650, S.772), Ban Asbestos etc. Act (H.R.3339) — for other quarters, see individual links.
Q2 2008 (http://disclosures.house.gov/ld/pdfform.aspx?id=300077983): $3,031,000 total spend
Q1 2008 (http://disclosures.house.gov/ld/pdfform.aspx?id=300044651): $4,050,000 total spend
Year End 2007 (http://disclosures.house.gov/ld/pdfform.aspx?id=300023856): $4,040,000 spend per quarter
That's nearly $14 million just for one year's lobbying to one government (which doesn't include the amount spent lobbying the EU, or the amount of funding given to 3rd party lobby and PR firms).
What I really want to know, and maybe you can help me here Phil, is what representations did General Motors actually make to the Senate and the House over the bills listed above — I would love to know. My bet is that it's not to ensure strict regulations on pollutants, safety or freedom of information, but I'm willing to be proven wrong if someone can send me the documents.
4. Other Items Of Interest
General Motors own Hummer, a company that does not disclose its emissions on its USA web site, but according to the UK government their standard model produces enough carbon dioxide to put it in the very worst emissions band there is. Hummer, for their part, really do seem to be taking caring for the planet seriously:
If you consider "caring" to mean "driving all over it".
And finally, we have General Motors Global Vice Chairman and US Chairman, Bob Lutz, pronouncing that Global Warming is a "total crock of shit" which is not the kind of thing you really want to be saying if you are serious about the protecting the planet.
Hey, maybe everything GM say about the environment is just greenwash and they don't give a shit about the planet at all. You decide.