Posted by keith on December 5th, 2008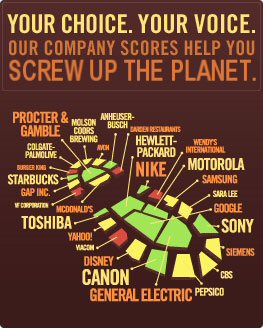 My Eco Spam of the week comes from the "non profit" (more of that later) organization, Climate Counts, who have created a scoring system for companies, ostensibly to get them to buck up their ideas…
From: Ria Knapp
To: news@unsuitablog.com
Sent: Tuesday, December 02, 2008 4:04 PM
Subject: News from Climate Counts

~~~~~~~~~~~~~~~~~~~~~~~~~~~~~~~~~~~~~~~~~~~~~~~~
New Widget Simplifies Consumer Action to Fight Global Warming
Climate Counts' Widget gives Company Scores a permanent home on blogs, profiles, and desktops

November 2008
~~~~~~~~~~~~~~~~~~~~~~~~~~~~~~~~~~~~~~~~~~~~~~~~
Contact: Ria Knapp

With the end of the presidential election season, our votes are now counted. But when it comes to fighting the global climate crisis, the opportunity to cast your ballot as a consumer remains wide open. The debut of Climate Counts new desktop widget enables people to keep their election season energy – by voting with their dollars.

Just as the importance of addressing climate change and achieving energy independence garnered attention during this year's presidential debates, the Climate Counts team is working to bring the same attention to the role that consumers can play in motivating the biggest companies in the world to offer their own climate responsibility and leadership. The new Climate Counts Widget gives individuals access to how companies rank on climate and how they compare to other companies in their industry sector. Widgets are customized applications that you can download and embed on your computer or web page.

"People vote based on how closely a candidate mirrors their values," said Climate Counts project director Wood Turner. "People should bring that same sense of purpose to how they spend their money. The companies they support should also be a reflection of their beliefs and concerns about issues like global warming."

By typing a company name or brand into the Climate Counts widget, you receive an output message with that company's climate score from 0 to 100 and which Climate Counts scoring tier – stuck, starting, or striding – that company falls into. The higher the score, the greater a company's commitment to fighting climate change.

"The widget helps people understand quickly how they can fight climate change with the choices they make every day when they shop," Turner said. "If the widget is on your desktop, your blog or personal page – you have constant and immediate access to Climate Counts company scores."

Climate Counts is a non-profit collaborative effort to bring consumers and business together to tackle global climate change. The organization launched its first climate scores of companies in June 2007 and updates scores annually. Climate Counts evaluates companies in four key areas – whether they are measuring their climate footprint; whether they are working to reduce that footprint; whether they are supporting (or blocking) progressive climate policy; and if they are being open and transparency about their climate actions with consumers.

In addition to helping consumers make climate-conscious purchases, the ClimateCounts.org website gives consumers the opportunity to "raise their voices" by e-mailing companies directly to either show their support for companies that are striding or petition lower-scoring companies to improve their climate protection efforts.

The widget can be downloaded directly off the ClimateCount.org website at www.climatecounts.org/widget.

For Release: Dec. 2, 2008

Contact Information
~~~~~~~~~~~~~~~~~~~~~~~~~~~~~~~~~~~~~~~~~~~~~~~~
Ria Knapp
PO Box 4844
Manchester, NH 03108
Phone: 603.216.3788
rknapp@climatecounts.org
~~~~~~~~~~~~~~~~~~~~~~~~~~~~~~~~~~~~~~~~~~~~~~~~
Before looking at the "widget", I took a look at their website…I must say I wasn't entirely surprised by what I found, but this was still hypocrisy of the highest order. Here's my response to Ria:
Dear Ria

This is a joke, yes?

I've just looked at the page on Banking (http://www.climatecounts.org/scorecard_sectors.php?id=27) and see that one of the most destructive banks in the world is number 1! Oh, I know why – it's because the WWF are on your advisory board, and just happen to get lots of money from HSBC! (http://thesietch.org/mysietch/keith/2008/01/15/wwf-buy-yourself-a-new-corporate-image-part-1/). Where is the Co-operative Bank or Triodos, both of whom have environmental policies that they actually act on rather than pretend to be acting on?

And what about the airlines? Surely NO airline should even be in the yellow, given that their entire business depends on the completely unsustainable and excessive production of greenhouse gases. If they fly then they pollute – that's it. They can never be good.

And then you have Electronics (http://www.climatecounts.org/scorecard_sectors.php?id=13), the companies scored, including your "greens", all actively push the mindless consumption of consumer goods that no one needs – but they continue to push them because their raison d'etre is to make a profit, and that means obsolescence and more sales, and more resource consumption, and more toxic pollution, and more greenhouse gases.

I don't expect you to take this seriously, because you don't appear to take environmental action seriously. Your funding comes from Stoneyfield Farm, who made $20 million in profit in 2007, raking in 90% of that for their shareholders; shareholders who would say goodbye if they didn't see a healthy return on their investment. The problem is that profit equals economic growth, equals an increase in environmental damage – how can you be objective when your funding depends upon a company making a profit? (and, BTW, Gary Hirshberg has done a wonderful greenwashing job, pretending that it is possible – hmm, how much oil do his yogurt cartons use in a year; how much carbon dioxide does it take to distribute his products around the world; how much methane do his cows produce?)

When you decide to show companies up for what they really are, then let me know – but for now you are going to become the subject of the next article on The Unsuitablog, which is read by thousands of keen anti-greenwashers.

Regards

Keith Farnish
www.unsuitablog.com
www.theearthblog.org
Intentional hypocrisy or just stupidity? I'm not sure, and I can't pass judgement until I get a response — which has not arrived after 3 days — but I do know for sure that there are an awful lot of environmentally pathological corporations getting an incredibly easy ride out of the laughably lenient scoring system that Climate counts have in place.

Corporations greenwash enough without others helping them do it: change it or get rid of it.