Posted by keith on January 9th, 2009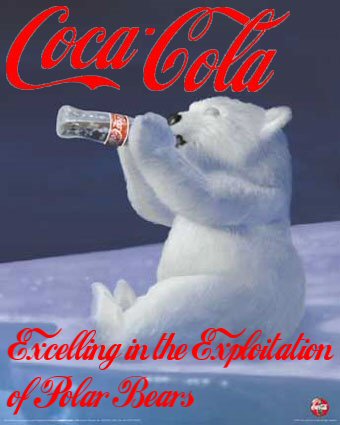 Environmentalists like polar bears, and it's not hard to appreciate why: not only are they extraordinary hunters, survivors and an integral part of the polar ecosystem, they are a vital marker to indicate the impact of global warming on this ice-dependent species, and they look pretty good on campaign posters too — if that's your kind of thing.
Coca-Coca loves polar bears, and it's not hard to appreciate why: they are a powerful symbol of survival in a isolated environment, they make great TV and they look really funny and quirky with a bottle of carbonated soft drink stuck between their paws. Since 1993, Coca Cola have made the most of the "Aah!" factor of polar bears.
It's no surprise that the Coca Cola Corporation have a big carbon footprint: 7.4 million tonnes in 2007, according to their own carbon disclosure, which is the same as the emissions for Honduras. Along with this they have a terrible history of extracting water illegally, or otherwise taking far more than is sustainable, along with all sorts of other unacceptable social and environmental behaviour (see this damning report by War On Want for more information).
So along come WWF Canada to take Coca Cola by the hand and lead them into a better place…except it's not WWF who are doing the leading, despite what they would like to think. Despite WWF's clumsy attempts to suggest that by partnering with such a nefarious corporate monster, the monster can be tamed to be a good environmental steward, and even assist with the preservation of the polar bear, Coca Cola are clearly laughing on the other side of their collective face.
Yes, what else would Coca Cola do but make some fantastic commercial capital out of this partnership — or should I say, sponsorship, because that's what it is.
Since 1993, the Coca-Cola Company has celebrated the polar bear as a symbol of holidays and togetherness. Sadly, the polar bears are now at risk from the effects of climate change. As the Arctic warms, the sea ice is melting, limiting their abilities to successfully reproduce and feed their cubs.

Deck Your Halls…

…with exclusive polar bear downloads, plush bears, holiday ornaments, and more! There's something for you, and everyone on your holiday list.

Buy Stuff.
Who needs irony when you have WWF?