Posted by keith on June 8th, 2009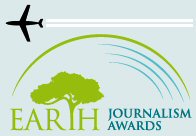 Are you a budding journalist who really cares about the planet?
Do you want to make a splash, while at the same time let people know how badly we are treating the Earth?
Are you a hypocrite?
Then you need to enter the Earth Journalism Awards.
Send us your Best Climate Change Reports!

Print, radio, TV and online journalists, photojournalists, bloggers from around the world are invited to participate in the Earth Journalism Awards.

Send us your best stories on climate change before September 7 2009 (12.00 pm, Paris-time, GMT+2) and win a trip to cover the Copenhagen Climate Summit!

Internews' Earth Journalism Awards encourage high-quality local climate change coverage leading up to the United Nations Climate Change Conference, December 7-18 2009 in Copenhagen (COP15).

A total of 14 awards are now open for entry:

Seven Regional Awards on current affairs and news reporting on climate change: Eurasia, South Asia, East Asia, Sub-Saharan Africa, Middle East & North Africa, Latin America & the Caribbean, and North America, Europe & Australia.

Six Thematic Awards: The Negotiations Award, The Human Voices Award, The Energy Award, The Forests Award, The Climate Change and Nature Award, and The Climate Change Adaptation Award.

The 14th award – the Global Public Award – will be chosen by the public, which will be invited to vote online for the best story drawn from the winning regional and thematic awards through a social networking campaign on platforms such as Facebook and Twitter.

Look out for the 7th thematic award – The MTV Positive Change Award. It will be open for entry from June 22 2009 to creative youth between 18 and 28.

Winners will be flown to the United Nations Climate Change Conference (COP15) in Copenhagen this December, where they will cover these pivotal negotiations and be honoured at a high-profile awards ceremony.
People who care about more than just winning a fancy, polluting prize, need not apply.