Posted by keith on June 10th, 2009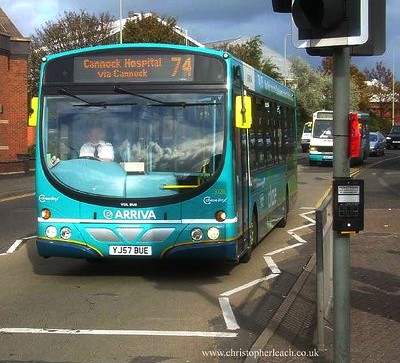 Hot off the presses from the English Midlands (Leicestershire, to be precise) comes the source of an awful pun that I couldn't even leave until later in the article. Sorry.
As a regular bus user, I do wonder why my legs always seem to be melting next to the heaters, even though the weather outside may be perfectly clement. It seems as though the denizens of Arriva Bus in Leicestershire, and probably everywhere else, haven't thought that a thermostat might come in handy.
Here's the article from the Leicester Mercury:
Passengers are being driven to despair by buses leaving the heating on in hot weather – often because drivers' cabs are not equipped with on-off switches.

Regular public transport users say that on sunny days it has felt like they are being driven around in mobile cookers.

When route 58 regular Bill Barson, of Netherhall, Leicester, wrote to Arriva to ask why his supermarket shopping was being cooked before he had chance to get it home, he was taken aback by their response.

The heating can only be turned off via a tap under the engine, according to a letter from the firm's customer service department, which added that: "This is not usually done until the warm weather is more settled."

The Mercury experienced the heating still on on a 51A Arriva bus into the city last Thursday.

Three years ago Arriva spent £9.5 million on a new fleet of buses for Leicestershire.

Disgruntled passenger Mr Barson said: "Why buy buses with such a stupid set-up?

"They are trying to get more people to leave their cars at home and use buses, but who wants to go on the bus when they are throwing out heat like a mobile Tandoori oven?

"It's got to the point now where I do not go into town as much because I would rather not be hot and bothered."

When contacted by the Mercury, an Arriva spokesman gave a slightly different story to the customer service department.

Spokesman Keith Myatt said: "Having spoken to engineers at Thurmaston, the buses used on the 58 service have a mechanism in the cab whereby the driver can adjust the heating.

"He would not have to wait for an engineer to make an adjustment.

"There are some older vehicles in the fleet where an engineer is needed to make the adjustment but these are generally not allocated."

However, passengers at St Margaret's Bus Station said that Mr Barson was not the only one feeling hot under the collar.

Pensioner Albert Hargrave uses the Arriva 27 bus to get into Leicester from his home in Ratby.

The 88-year-old said: "You can definitely feel the heating on your legs even when it is a sunny day – it does seem that they are not able to turn it off."

Melanie Ward, 23, of Kibworth regularly uses Arriva's X3 service to travel to work in the city. She said the problem was worse on single-decker buses.

She said: "When they send the coach instead of the bus, it's always baking hot on that." Bus group First admitted that its vehicles had a similar problem. Its double-decker buses are kept warm by a radiator system that sees hot water from the engine pumped through 150ft of copper piping. It can only be turned off by engineers.

Spokesman Leon Daniels said an instruction had now been sent out to switch off the heating on all of its vehicles for summer.

He said: "Unfortunately it is one of those nuisances of technology, which we look forward to technology one day being able to solve."
Now, I'm not a genius, but I suspect I solved the problem in my introduction (Hint: Thermostat). But more bizarre is the last quote from the Arriva man: "which we look forward to technology one day being able to solve."
This is actually a pretty serious mental condition; when you think that the only way of solving a problem is the further application of technology. Greenwashing is full of techno-fixes — so much so that there is an entire category dedicated to it on this blog — and it is not surprising, considering that the industrial system will never accept that nature has most, if not all of the answers, and our obsession with "progress" will ultimately lead to our demise.
If you can convince people that climate change, ecological devastation, food shortages, peak oil, social inequality, disease and dispair can all be solved with a quick application of technology, then you (as a corporation, usually) can keep on selling utopia to the world's population in the form of the "miracle of technology". Are we so dumb and brainwashed that we can't see the lie?