Posted by keith on October 19th, 2009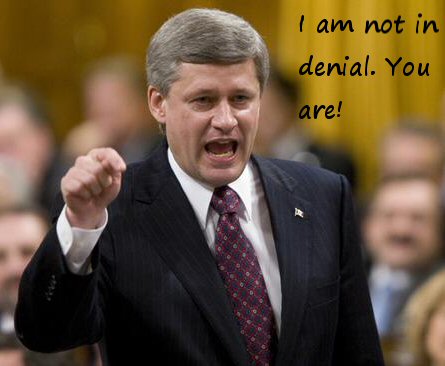 I sort of hated Stephen Harper before reading the new book by James Hoggan and Richard Littlemore, but after finishing Chapter Thirteen of "Climate Cover Up", there's no "sort of" about it. Whether you believe there is such a thing as Evil or not, by any discription of the term Stephen Harper, Prime Minister of Canada has got to be partaking in Satan's Brimstone Ball. From my point of view: he is a guy in pathological denial, so utterly inculcated in the industrial economy and all it stands for, that nothing good can exist that challenges this toxic orthodoxy.
So, because I'm feeling generous, I want to share the hate with all of you. Welcome to the world of Harper:
When Conservative leader Stephen Harper campaigned for the prime minister's job in early 2006, he did so on an interesting two-track campaign. He promised first of all to be a law-and-order conservative who would crack down hard on people who broke the law. And he promised to abrogate Canada's international legal commitment to the Kyoto Protocol. If any reporters noticed the contradiction, there is no record that they asked him about it. Once elected, the prime minister promptly handed the job of environment minister, which included defending the government's climate change position, to the Alberta member of parliament Rona Ambrose. Ambrose came across as a Canadian version of the benighted Sarah Palin—attractive, initially popular, and totally out of her depth, which turned out to have been a policy decision. Government scientists in Environment Canada reported to their privatesector colleagues that Ambrose declined to be briefed on the science of climate change.

The Conservative hostility to Kyoto surprised no one. Prime Minister Harper was himself elected as a member of parliament from the oil capital, Calgary (his actual riding is Calgary Southwest), and his party's base is preponderantly in resource-rich western Canada, and decidedly in oil-rich Alberta.

In 2006 Alberta was awash in cash. Between 1990 and 2006 fossil fuel industry revenues had climbed 61 percent. But that windfall had come with a complicating factor: industry-source greenhouse gas emissions had increased over the same period by 53 percent, accounting for almost half of the total increase in emissions recorded over the same period. Most of the rest came from transportation and from coal-fired electricity generation.

Harper's position on climate change, that of a loyal Albertan, had been on the record—and perfectly unclear—for years. In a story published December 21, 2006 ("pm Denies Climate-Change Shift"), the Toronto Star's Ottawa bureau chief, Susan Delacourt, chronicled the evolution of the prime minister's thinking. In September 2002, for example, he passed off the issue as a controversy of little interest to Canadians: "It's a scientific hypothesis, a controversial one and one that I think there is some preliminary evidence for . . . This may be a lot of fun for a few scientific and environmental elites in Ottawa, but ordinary Canadians from coast to coast will not put up with what this [the Kyoto accord] will do to their economy and lifestyle, when the benefits are negligible." In 2004, Delacourt writes, the prime minister updated that position to say, "The science is still evolving." And by 2006 he was still referring to "so-called greenhouse gases." If you give him the benefit of the doubt, Prime Minister Harper seemed, even as he took over the reins of power, to be like those well-educated Republicans from Chapter 12, so steeped in uncertainty that he couldn't bring himself even to believe in the existence of the greenhouse gases that Joseph Fourier had discovered in the early part of the 19th century.

In addition to announcing that he had no intention of trying to meet Canada's Kyoto targets, the Canadian prime minister also set about dismantling all the climate change policies that the previous Liberal government had implemented to date. He shut down the government's climate change Web site and removed all references to global warming, and especially to Kyoto, from federal communications, except to say that henceforth he would be resisting international pressure and pursuing a "made-in-Canada solution."

Here Harper begins to use language that was actually made in America. The Republican spin doctor Frank Luntz was in Kingston, Ontario, in May 2006, speaking to the Conservative- linked Civitas Society and making time on the side for a personal meeting with Prime Minister Harper. (The prime minister confirmed in the House of Commons a couple of days later that he and Luntz had been acquainted "for some years.")

In the weeks that followed, people started listening more closely to the Conservatives and looking for likely connections to the strategy document, as discussed in Chapter 6, that Luntz had written for the U.S. Republican Party ("The Environment: A Cleaner, Safer, Healthier America"). As Ross Gelbspan recorded on the DeSmogBlog on May 31, 2006, the Kitchener Waterloo Record reported the results in a story headlined "Tory Kyoto Strategy Mirrors U.S. Plan":

In his 2003 memo, [Luntz] told Republicans not to use economic arguments against environmental regulations, because environmental arguments would always win out with average Americans concerned about their health. Luntz also told his U.S. clients to stress common sense and accountability. "First, assure your audience that you are committed to 'preserving and protecting' the environment but that 'it can be done more wisely and effectively.' Absolutely do not raise economic arguments first."

Since the Conservatives took office, they have consistently stressed their commitment to clean air and water, and tried to avoid discussion of cutting back environmental programs— although many have been eliminated. "My mandate is to have accountability on the environment and show real results and action on the environment for Canadians," [Environment Minister] Ambrose told the Commons last week.

Luntz advises that technology and innovation are the keys to curbing climate change, a theme the Conservatives have repeatedly echoed. "We will be investing in Canadian technology and in Canadians," Ambrose told MPs.

Despite his general aversion to economic arguments, Luntz . . . advises putting the cost of regulation in human terms, emphasizing how specific activities will cost more, from "pumping gas to turning on the light." Ambrose has claimed that "we would have to pull every truck and car off the street, shut down every train and ground every plane to reach the Kyoto target. Or we could shut off all the lights in Canada tomorrow."

In this first year that the Harper Conservatives were in power, Canada was also the official chair of the un Framework Convention on Climate Change, which gave the country two special chances to drag down the process. First, Environment Minister Rona Ambrose was anything but a champion for action. She dismissed Canada's own commitments, blew off Canada's reporting deadlines, and on one occasion at least, declined even to attend a meeting, assuming her position as "chair" over the telephone.

Canada also increased international inertia on behalf of the Bush administration. Having refused to sign the Kyoto Protocol, the United States was effectively sidelined from the process, forced to sit outside of the most critical meetings awaiting word of how the parties to the accord were planning to proceed. Given that the United States was the world's number-one producer of greenhouse gases, there was only so much that could be decided by the remainder of the world's powers, but the United States still feared that its interests could be marginalized by a concerted international effort to discourage emissions.

That was no threat with Canada in the room. Having backed away from its own Kyoto commitments, Canada also chose to join the Asia-Pacific Partnership on Clean Development and Climate, a sort of anti-Kyoto coalition that included the world's biggest polluters (China, India, Japan, Korea, and the United States) and the second-tier countries that sell them oil and coal (Australia and Canada). Even Republican Senator (and later presidential candidate) John McCain dismissed the partnership as "nothing more than a nice little public relations ploy." McCain told Grist writer Amanda Griscom Little on August 4, 2005 ("New Asia-Pacific Climate Pact Is Long on PR, Short on Substance"), that the partnership had "almost no meaning. They aren't even committing money to the effort, much less enacting rules to reduce greenhouse gas emissions." The group's apparent determination to create an alternative organization that could be used to undermine the UN Framework Convention on Climate Change, combined with the Canadian decision to join the Big Coal coalition during a year when Canada was nominal chair of the UN Framework process, dealt the UN body a telling blow.

At subsequent UN Framework conferences, especially in Bali in 2007, Canada's obstructionist position became so obvious that people started to believe the Bush and Harper administrations were working together—that Canada was trying to prevent any progress that might demonstrate how badly the United States was out of step. But the theory broke down at the Kyoto Protocol update in Poznan, Poland, in December 2008. By then Barack Obama was already president-elect, though George Bush would retain the actual presidency until January 20, 2009. So the Bush negotiators were still in the room, but with no real mandate: everyone expected that the Obama administration would take a more aggressive tack in approaching climate change.

With the United States removed as a contrarian force, some people expected that Canada would shift to a more productive position as well. But if anything, Canada stepped up its obstructionism, urging other countries to back away from greenhouse gas reduction commitments they had made in Bali the year before. For its efforts Canada was granted the "Colossal Fossil" award. The environmental Climate Action Network chose a "Fossil of the Day" for each day of the two-week conference, and the country with the most nominations was judged to be the Colossal Fossil when the meeting wound down. Canada really earned that international embarrassment.

While dragging down efforts to build an effective greenhouse gas reduction policy on the world stage, the Harper Conservatives continued to emulate U.S. policy at home. Where in 2003 the Bush administration had proposed a Clear Skies Act that ignored greenhouse gases almost entirely, the Harper Tories followed with a Clean Air Act in 2006, which focused on smog and particulate pollutants and promised (still voluntary) emission targets by 2020.

With U.S. president George Bush advocating "energy intensity targets" as a way to address climate change, the same policy started appearing in Canadian climate documents only a short while later, such as in Environment Canada's 2008 regulatory framework for industrial greenhouse gas emissions. An energy intensity target is something you might expect to get from Frank Luntz: it's very specific. The definitions are clear and concise. But when you implement it succesfully, you get a public relations boost without any corresponding reduction in greenhouse gas emissions. Consider, for illustration, the following definition from the World Resources Institute: "Greenhouse gas intensity targets are policies that specify emissions reductions relative to productivity or economic output, for instance, tons co2/million dollars gdp. By contrast, absolute emissions targets specify reductions measured in metric tons, relative only to a historical baseline." That means that you can reduce energy intensity by a lot (the Canadian tar sands giant Suncor cut its energy intensity by 51 percent between 1990 and 2006) while at the same time continuing to make the problem worse (despite the "intensity" cut, Suncor increased its absolute emissions by 131 percent during the same period).

Thus, intensity targets are for people who don't want to deal with the problem. Consider this May 7, 2001, statement from Bush White House spokesperson Ari Fleischer in response to a question about whether the president would urge Americans to change their world-leading energy-consumption habits: "That's a big 'no.' The president believes that it's an American way of life, that it should be the goal of policy-makers to protect the American way of life. The American way of life is a blessed one . . . The president considers Americans' heavy use of energy a reflection of the strength of our economy, of the way of life that the American people have come to enjoy." True to his word, until oil prices spiked in the summer of 2008, the Bush administration held its position, touting energy intensity cuts while supporting the expansion of the coal-fired power industry and the aggressive extension of oil drilling into parks and oceans.

Here's how things played out in Canada during the same period: the provincial administration in Alberta, home to the largest section of Canada's huge tar sands deposit, announced a climate change strategy in 2008 that would call for no greenhouse gas emission reductions whatsoever before 2020. In a document titled Responsibility/Leadership/Action, Alberta also proposed to pursue energy intensity targets in the short term (2010), to "stabilize" emissions by 2020 and to "reduce" emissions by 2050 by 14 percent from 2005 levels. Put another way, Alberta was planning to give industry free rein until 2020, after which it would introduce regulations so gently that by 2050, the province still would not comply with the target that Canada promised in Kyoto to meet by 2012. Returning once again to the dark definition of Orwellian, it's hard to imagine how that could seriously be described as responsibility, leadership, or even action.
Now, I get the feeling that you really want to do something about this imbicile; you're not alone. Want to know the best way? So do I. But anything you can do to ruin his credibility and upset the system that he merrily wallows in has to be a good thing.