Posted by keith on December 11th, 2009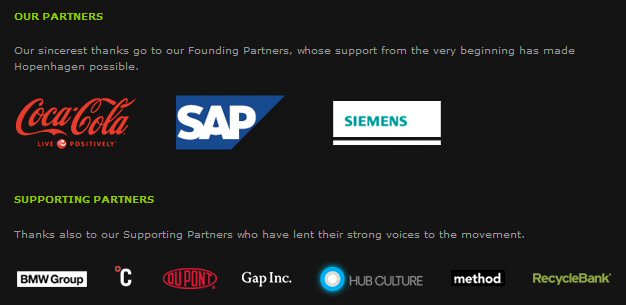 I thought the dirty tricks and fake grassroots activism being pushed by the group known as Hopenhagen couldn't get any worse, and then I hear this from Johann Hari, who is currently in Copenhagen, lending an ear and column inches to the people who will be worst affected by climate change:
Every delegate to the Copenhagen summit is being greeted by the sight of a vast fake planet dominating the city's central square. This swirling globe is covered with corporate logos – the Coke brand is stamped over Africa, while Carlsberg appears to own Asia, and McDonald's announces "I'm loving it!" in great red letters above. "Welcome to Hopenhagen!" it cries. It is kept in the sky by endless blasts of hot air.
Yes, "Welcome to Hopenhagen", that's the rallying cry of the media executives who work for the corporations that will do anything to dominate the proceedings at this last-ditch attempt for politicians to show they have a desire to make things better. As Johann goes on to say: "This plastic planet is the perfect symbol for this summit." The politicians of the Industrial world have their agendas set by the corporations, who are kindly sponsoring the efforts of the Hopenhagen organisation, which just happens to be run by the International Advertising Association.
Back in June, I said: "This raises a hell of a lot of questions: not least that if Hopenhagen is the brainchild of an industry that depends on continuous consumer spending for its existence, how could it be sustainable in any way?" As they promised, the campaign has been ramping up and up, with their billboards, their viral ads and their Facebook group, for which there are 42,000 members largely dancing to the tune of the corporate world. One person just posted the following: "The title is Hopenhagen, Let's try to keep the comments toward the hopeful and not rant at everyone. If we all put a little effort into making small changes, we can make big changes. Peace"
To which I responded:
The IAA wants the corporations of the world to thrive otherwise it's members would suffer: Hopenhagen is currently being promoted in Copenhagen with billboards covered in corporate logos. One of Hopenhagen's key sponsors, DuPont was a founder member of the climate sceptic Global Climate Coalition. Coca Cola suck India and Mexico dry; Gap exploit workers for cheap clothing; BMW make overpowered gas-guzzlers; Seimens have a nice line in oil and gas exploration – all of these partners of Hopenhagen.
I have nothing more to add. But you might want to say something…