Posted by keith on December 15th, 2009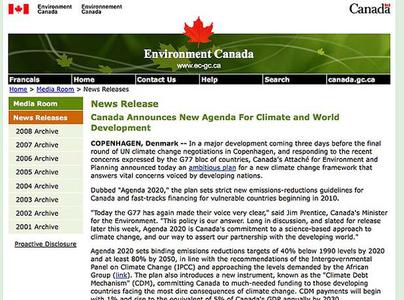 FOR IMMEDIATE RELEASE
Tuesday, December 15, 2009
Copenhagen Spoof Shames Canada; Climate Debt No Joke
African, Danish and Canadian youth join the Yes Men to demand climate justice and skewer Canadian climate policy
COPENHAGEN, Denmark – "Canada is 'red-faced'!" (Globe and Mail) "Copenhagen spoof shames Canada!" (Guardian) "Hoax slices through Canadian spin on warming!" (The Toronto Star) "A childish prank!" (Stephen Harper, Prime Minister of Canada)
What at first looked like the flip-flop of the century has been revealed as a sophisticated ruse by a coalition of African, North American, and European activists. The purpose: to highlight the most powerful nations' obstruction of meaningful progress in Copenhagen, to push for just climate debt reparations, and to call out Canada in particular for its terrible climate policy.
The elaborate intercontinental operation was spearheaded by a group of concerned Canadian citizens, the "Climate Debt Agents" from ActionAid, and The Yes Men. It involved the creation of a best-case scenario in which Canadian government representatives unleashed a bold new initiative to curb emissions and spearhead a "Climate Debt Mechanism" for the developing world.
The ruse started at 2:00 PM Monday, when journalists around the world were surprised to receive a press release from "Environment Canada" (enviro-canada.com, a copy of ec.gc.ca) that claimed Canada was reversing its position on climate change.
[All links open in a new window]