Posted by keith on May 27th, 2010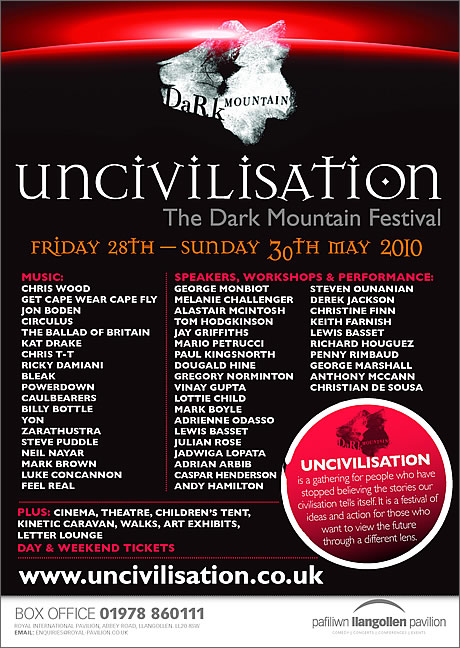 At the crack of dawn tomorrow (Friday 28th May) I leave for Wales; taking a bus into Edinburgh, a train to Crewe, another train to Chester, yet another train to Ruabon, and finally a bus to Llangollen. More civilised people might consider this to be a slightly excessive response to not wishing to drive – I'm looking forward to having an interesting, at times beautiful, and certainly a relaxing journey in which to read all the things I have pathetically failed to get round to reading. Nine hours of public transport – bliss!
On Saturday 29th May at 10.30, I will be hosting a workshop in The Gallery entitled "Breaking The Tools Of Disconnection" (see here for the full programme), in which we will explore some of the many ways that ordinary people can work to remove some of the obstacles that hinder humanity's ability to connect with the real world. Maybe I'll see you there.
Full details of this wonderful festival are at the website www.uncivilisation.co.uk.