Posted by keith on June 24th, 2010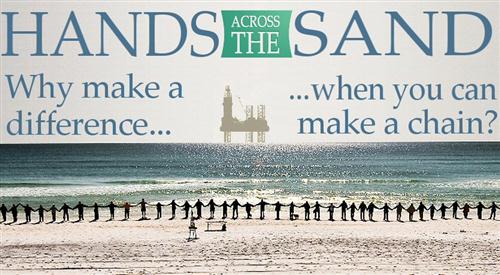 "I dreamed early on in the BP crime-event that The Gulf Gusher could NOT be stopped. I woke up shaking, sweating, my heart pounding. I knew this was information more than merely a dream…I think we have a hole in our heads when we talk about effective action, and we've got to think more seriously about what effective action is to stop the destruction of the only planet we have and need…"
(Roxanne Amico)
Yesterday, myself and probably thousands of other bloggers and activists received a press release from New York PIRG, explaining what they would be doing about the horrors of the Gulf, the ravenous appetite of the industrial world for oil, and the continued scorched-Earth policy that all governments pursue in the search for wealth and continued economic growth.
MEDIA ADVISORY – For immediate release

Lauren Schuster, NYPIRG Staff Attorney
347.729.4729, LSchuster@nypirg.org

HUNDREDS TO DEMAND AN END TO OFFSHORE OIL DRILLING AND AN IMMEDIATE TRANSITION TO CLEAN RENEWABLE ENERGY WILL HOLD "HANDS ACROSS THE SAND" AT BRIGHTON BEACH

On Saturday, June 26th, hundreds of students, volunteers and members of NYPIRG's 1Sky New York Campaign will gather on the shore at Brighton Beach to demand an end to offshore drilling and an immediate transition to clean, renewable energy sources. The activists, standing in silence, will clasp hands along the shoreline, in a stunning visual display of solidarity. The Brighton Beach Hands Across the Sand event is part of a national campaign with hundreds of events taking place in almost every state in the country. For more information about the nation event, please visit: http://www.handsacrossthesand.com.

Who: Hundreds of volunteers and activists from the NYPIRG/1Sky NY Campaign
What: Hands Across the Sand at Brighton Beach
When: Saturday, June 26th at 12pm
Where: Brighton Beach, Brooklyn, NY
Visuals: Hundreds of volunteers clasping hands along the shore
Photos: Photos of the event will be made available for those who are unable to attend
This is part of a national (i.e. USA) event, currently being held in 26 states, which no doubt will be attended by hundreds of thousands of people who for some reason feel that forming chains of people across beaches will do the job, will make things all better again.
> What is the point of this, Lauren?

Keith
Hi,

Thanks for your question. The event is taking place in almost every state
in the country at the exact same time and we are standing together to show
solidarity with the Gulf Coast. We will send the message that we want an
end to offshore oil drilling and we want clean renewable, energy now. I
think that sums it up. If you have any other questions or would like more
information, please feel free to call or email. Thanks!

Warmest Wishes,

Lauren Schuster, Esq.
Staff Attorney
NYPIRG | The New York Public Interest Research Group
9 Murray Street | 3rd Floor | New York, N.Y. 10007
LSchuster@nypirg.org
p. 212.349.6460 | f. 212.349.1366
http://www.nypirg.org/enviro/1sky/
Thanks for replying, Lauren. I still don't understand how this will actually change anything – who will get the "message" and what do you honestly except them to do with it?

Keith
Hi Keith,

That's a fair question. So, we hope to and already have started attracting a fair amount of media attention, which is the first step. We are also collecting petition signatures at the event which demand comprehensive climate and clean energy solutions. We will deliver these petition signatures along with pictures of the event and a letter urging out leaders at every level of government to support climate and clean energy legislation next week. Hopefully, the force of hundreds of people from hundreds of organizations across the country doing this at the same time will demonstrate that we're serious. Finally, bringing people together at an events like this makes everyone feel energized and engaged in the issue. We are going to need a lot of passionate people who are ready to help us move mountains to get climate and energy done. At the end of the day, it's really about about bringing people together.

With that said, you should come out, see what it's all about and then you can be involved with the follow up so you can see how a little hand holding can have a big difference.

Warmest Wishes,

Lauren Schuster, Esq.
I think the key word here is "hopefully" – which suggests that even the organisers give little chance of it actually achieving anything. Do you have any examples where such actions have created the kind of change you are asking for? I personally, cannot think of one. All successful actions I am aware of have involved some element of direct action, including sabotage and/or mass disobedience.

Best

Keith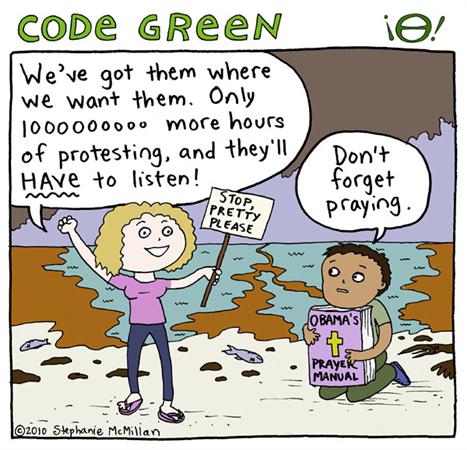 (Cartoon courtesy of Code Green by Stephanie McMillan)
The dialogue continues below – please join in…
UPDATE: Just received this comment from Chandra (see below) who seems to have uncovered some interesting information about the founder of Hands Across The Sand, Dave Rauschkolb. I don't have the resources to verify everything here, but if it is all true then the movement would seem to be walking on quicksand:
As for the mastermind behind this protest, Dave R., he's recently announced to our local community that he has ordered the new Nissan Leaf to show his commitment to renewable energy. I once had a conversation with Dave about Peak Oil, of which he had never heard. That's innocent enough, we were all there once. Dave has personally been invited to numerous sustainable forums over the last few years, of which I don't recall him ever attending. He's a very busy man. Dave is a three restaurant owner surf dude, who jet sets all over the world and has been known to indulge in poker excursions to Las Vegas. Dave lives in one of the most affluent developments in our county. I seriously doubt that Dave has evaluated any of his menus for sustainably acquired seafood, yet Dave claims to love the Gulf and care deeply for it's inhabitants. Dave cut down a vital stand of old sand oaks from the dunes that were impeding the beach views from his latest restaurant endeavor. Dave is now regarded as a local hero and face of environmental stewardship and activism. Dave is planning yet another Hands Across the Sand event for next year. Be sure to get your T-shirt!