Posted by keith on July 23rd, 2010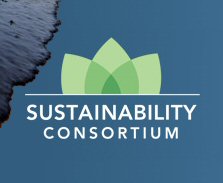 Another winning post by David at The Good Human, exposing a magnificent example of Astroturfing. I suspect one reason these things keep turning up is because of "Fluorescent Tabard Syndrome": the psychological oddity that allows anyone wearing an extremely bright item of work clothing to go virtually unnoticed by the general public. Essentially, if the lie is big enough, or the company greenwashing is so obviously trying to cover up their ecocide, then people will accept this as OK.
Thankfully, some of us aren't falling for it…
I have written about some whoppers on this site and in the Greenwash of the Week series (Sustainable Brands was one of my favorites), and this is right up there with some of the best. The Sustainability Consortium, an "independent organization of diverse global participants who work collaboratively to build a scientific foundation that drives innovation to improve consumer product sustainability through all stages of a product's life", would seemingly be a place you would see companies truly dedicated to the environment and sustainability, right? However, you would be wrong…as you can see from this small sample of members, along with some examples of how much they care about sustainability:

* Walmart – Wal-Mart Stores Inc. has agreed to pay $27.6 million to settle claims of improperly handling and dumping hazardous waste at stores across California.
* Monsanto – Monsanto's RoundUp "May Have Dire Consequences for Agriculture" and "Monsanto Fined $2.5 Million for Misleading Farmers About GM Cotton Seed"
* Cargill – Cargill leaves a palm oil mess in Papua New Guinea and all 83,000 hectares of Cargill's five directly owned oil palm plantations have been carved out of lowland rainforests, causing massive deforestation. As of 2009, Cargill is actively clearing forest in Borneo at their PT Harapan Sawit Lestari plantation without an environmental impact assessment.
* Clorox – Chlorine bleach releases dioxin, furans and other organochlorines into the air, can cause sore throats, coughs, wheezing, shortness of breath, fluid in the lungs and studies have shown a relationship between dioxin exposure and cancer, birth defects, and developmental/reproductive disorders.
* Colgate – Makers of "plastic, one-time use toothbrushes (called WISP's) so that you can freshen up multiple times throughout the day. Which is why I find Colgate's supposed environmental stewardship to be such an insult. It's called "Respect for our Planet." Um, yeah. If respect for our planet means throwing up a web page and then manufacturing utterly useless products that will sit in our landfills until the Sun burns out, you guys have it nailed."
* Disney – Too much to even list here, but my friends over at EcoChildsPlay have a ton of good stuff about their "concern".
* Kimberly-Clark – Kimberly-Clark's new policy is to ensure that 40 percent of its North American fiber is either recycled or certified by FSC, but in order for Kimberly Clark products to be environmentally preferable, the company needs to announce meaningful targets for increasing recycled and post-consumer recycled fiber in their products. The current policy does not guarantee that Kimberly-Clark will in fact increase recycled content in any of its at-home products, most of which do not currently contain any recycled content at all. Their at-home tissue products are not guaranteed to improve. Also, check out their Pure & Natural diapers which are anything but.
* SC Johnson – Makers of Pledge, Ziploc, Off!, Glade, Raid, Windex, Scrubbing Bubbles, and Drano. What a collection of sustainable products they have! I have featured them as a Greenwash of the Week before, Treehugger has added them to their Greenwash Watch series, and Seventh Generation wonders when Drano became "non-toxic and environmentally friendly".
* Unilever – Although not directly related to the environment, it is a human-rights issue: "Unilever Builds a Facebook App To Help Indians Whiten Their Skin"
* Tyson – Tyson Foods on trial for polluting Illinois watershed and Tyson Fined $2M For Mucking Up Missouri River
* Waste Management – Federal authorities have given a toxic waste dump (owned by Waste Management) near a Central California farming community plagued by birth defects 60 days to clean up soil contaminated with carcinogenic PCBs.

Are there some members of the Consortium who actually do care to be sustainable and are not only interested in a little "purchased greenwash"? Yep. But many of them are well-known polluters, human rights abusers, and purveyors of genetically-modified foods and goods.

So much for "Sustainability"…
Full background information with links available at David's fine site.