Posted by keith on November 12th, 2010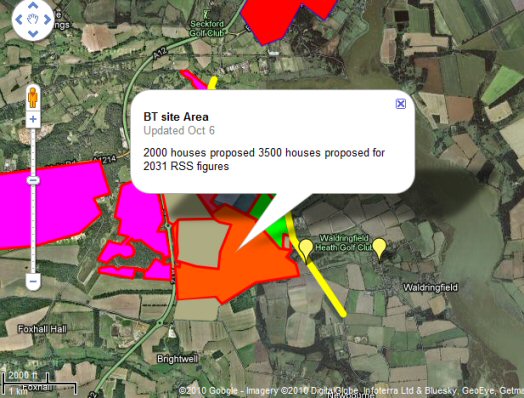 Adastral Park is part of BT's (formerly British Telecom) Martlesham Heath technology complex, a combination of defence research laboratory and industrial park, situated close to the busy Suffolk town of Ipswich, and adjacent to a large area of Outstanding Natural Beauty. You can find Adastral Park by going to their website, which isn't very well designed, but is replete with stories about how the staff of Adastral are playing such a big part in keeping the Suffolk coast clean and tidy. This is no coincidence, because when you have so many technology companies on site, dependent on your ignorance of global environmental and human rights issues for their success, then it's always good to keep casual viewers thinking about nice things.
BT, who own the site, make a huge deal about their environmental credentials, with "Sustainable Business" (there's an anachronism) right on the front page of their corporate web site, and the following headline statement:
As a company, we are always looking for ways to minimise our impact on the environment.

Indeed, we are very proud of our environmental management track record having set our first carbon reduction target back in 1992.

Now we're committed to reducing the carbon intensity of our global business by 80 per cent by 2020 – so far we have achieved a 54 per cent reduction by becoming more energy efficient and by increasing our use of renewable energy.
Ah, that phrase "carbon intensity" – used worldwide by expanding economies and companies to pretend they are reducing their net emissions – but let's ignore that one, because among their many other commitments are included all sorts of schemes for reducing carbon emissions within the business and their products, as well as their data centres. One thing missing, though, seems to be impact on habitat: I wonder why that can be:
A bit of history.

The GPO moved its research centre from Dollis Hill to what is now Adastral Park in the late sixties. One of the main attractions of the site was the amount of flat open land in the area which was essential for radio testing.

Over many years BT have put forward various proposals and plans to expand the business park activities. Nine years ago the first amendment to the Local Plan (dated June 2001) created a framework for expanding the business park but they did not link it to building any residential housing on the site. At the time BT forecast 3000-3500 additional jobs by about 2010 – but in reality we believe there are probably fewer people employed on the site now than in 2001.

As recently as 2007 BT said that they could develop the business park without the need for the income from selling land for housing.

The BT land

Despite what is said in the LDF and various BT documents the open land outside the BT fence IS greenfield. Farming is still carried out on some of it, and a license has been granted for mineral extraction on part. However that license requires that the land be returned to farming at the end of the extraction – the existence of extraction does not mean that it is no longer technically greenfield land.

At its closest the site comes within 88 metres of an AONB, and there are several sites of special status close by, which are home to protected species – eg Newbourne Springs. The new development will increase the local population by about 4,800 people, placing an unnecessary burden on these valuable protected wildlife sites. Proposals to employ a warden will not stop people visiting.

As recently as 2006, SCDC rejected a planning application for 120 log cabins on a site next to Waldringfield Road. The rejection was on the grounds that it was too near the AONB etc, and would result in an unacceptable increase in visitor numbers to those sensitive areas. BT objected to this application

In October 2008 BT wrote to the East of England Regional Assembly in response to a request for landowners to put forward further land for housing up to 2031. BT responded to this request by saying that their site could potentially accommodate up to 3000 – 3500 houses in total – ie around 8500 people – it is inconceivable that this many people would not a have major impact on the nearby natural areas.
That slice of information is from the No Adastral New Town campaign group, who seem to be a bit of a lone voice in protesting against the "development" (i.e. killing off) of a major slice of Suffolk countryside in order to satisfy the perceived need for new housing. Yet, according to Empty Homes, there were about 1,500 empty homes in Ipswich in 2008, along with nearly 1,700 more empty homes in the adjacent Suffolk Coastal district. Bear in mind also, that the projections for new homes are heavily influenced by the lobbying of housing developers, and also the organisations upon whose land the houses could be built upon, and you get a situation which is completely absurd: no new houses needed whatsoever, in reality.
But BT can make a heck of a lot of money out of this, so they are only too willing to toss aside any weasel words (apologies to weasels) they say about their "green" business commitments if it means a hefty amount of money in the company coffers.
If you live anywhere near this area, then please get in touch with the campaign group (more details here) or just go it alone and let everyone know what hypocrites BT and Suffolk Coastal District Council really are.