Posted by keith on March 13th, 2011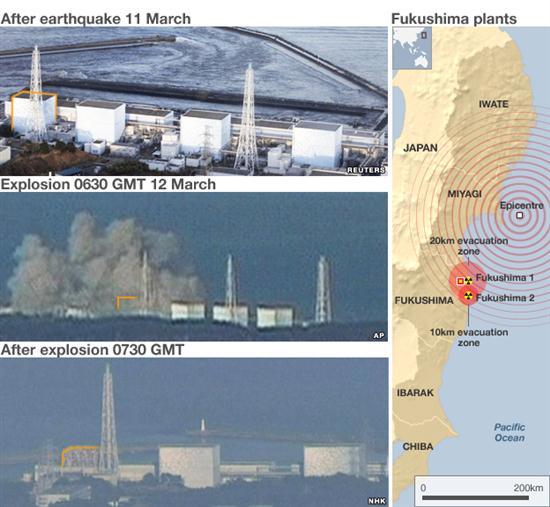 In the light of the Japanese earthquake and subsequent tsumani, government and internation agencies are working like crazy to ensure no news remains good news regarding the Fukushima nuclear power plant. Yet from the BBC we hear the following:
There are now problems at the number three reactor – the concern is that it is overheating. They're trying to pump sea water through it at the moment. That's an unusual, somewhat innovative solution to the problem. But the fact that they're prepared to consider unusual solutions like that gives you a hint of just how serious the problem is.

This is a very difficult issue for the Japanese government. There has always been concern here about the safety of nuclear power stations, about the wisdom of building nuclear power stations, on which Japan relies hugely for its energy needs, in a country which is so prone to earthquakes.

They're also aware that they don't want to cause panic. On Saturday we saw the exclusion zone around this plant gradually increase. First of all it was just a few kilometres, now it's much wider. But obviously once that exclusion zone is extended, you've then got to get the people out. So it's important, they would say, not to cause unnecessary panic. And that's why they're trying to play this down as much as they can.
The World Nuclear Association are being fairly up-front with the facts, albeit holding back on speculation about possible outcomes; thus we read from them:
Operations to relieve pressure in the containment of Fukushima Daiichi 3 have taken place after the failure of a core coolant system.

The news comes one day after the plant's first reactor was effectively written off as a result of a hydrogen explosion and the move to inject seawater to make certain of cooling the reactor core. Two days ago were the earthquake and tsunami that have proven Japan's worst ever natural disaster.

Reactors 1, 2 and 3 were in operation at Tokyo Electric Power Company's (Tepco's) east coast power station when the earthquake struck. Three other reactors were already shut for inspection and all three operating units underwent automatic shutdown as expected. Because plant power and grid power were unavailable during the earthquake, diesel generators started automatically to supply power for decay heat removal.

This situation continued for one hour until the plant was hit by the tsunami wave, which stopped the generators and left the plant in black-out conditions. The loss of power meant inevitable rises in temperature within the reactor system as well increases in pressure. Engineers fought for many hours to install mobile power units to replace the diesels and managed to stabilise conditions at units 2 and 3.

However, there was not enough power to provide sufficient coolant to unit 1, which came under greater and greater strain from falling water levels and steady pressure rises. Tepco found it necessary yesterday to vent steam from the reactor containment. Next, the world saw a sharp hydrogen explosion destroy a portion of the reactor building roof. Prime minister Naoto Kan ordered the situation brought under control by the injection of seawater to the reactor vessel.

Now Tepco has reported it has not been able to restart unit 3's high pressure injection system after an automatic stop. This has left the reactor without sufficient coolant and obligated Tepco to notify government of an emergency situation.
Yet what do we hear from the International Atomic Energy Agency, which purports to speak for the entire nuclear industry and all governments that have nuclear capability:
Japanese authorities have informed the IAEA that Units 1, 2, and 4 at the Fukushima Daini retain off-site power. Daini Unit 3 is in a safe, cold shutdown, according to Japanese officials.
Even the WNA are incredulous at this statement; their Twitter feed states:
#IAEA quashes reports of problems at #Fukushima Daiichi 3 #nuclear #japan #earthquake
Which leads us to the obvious conclusion that there is a huge cover-up taking place, but failing in part because there is too much obvious contradiction of information. In this situation the best approach is to listen to your nearest equivalent to a trusted news source and not listen to a word emanating from government (Japanese or otherwise) or the IAEA.