Posted by keith on May 4th, 2011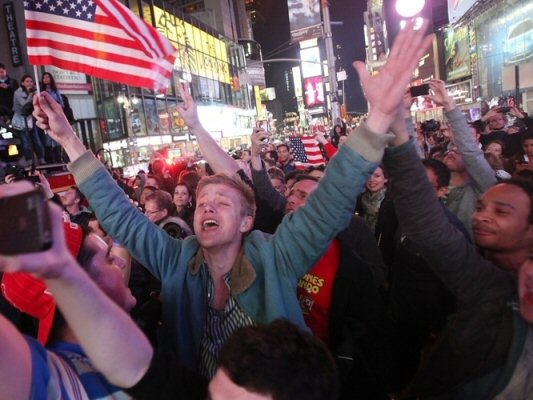 Enjoy the moment – the personification of Evil is dead. Take to the streets and express your sheer joy at the end of a symbol. Paint your banners and hold them high; unfurl your flags and wave them in the night sky; don your army surplus trousers and bare your chests: we have a winner folks, and it's the US of A!
Now haul that son-of-a-bitch in front of the public and make him justify his atrocities. How did he raise such a complex network of followers and stay safe for 30 years? Where did the money and the weapons come from? How did he cause so much destruction with so few people? Force him to explain the killings. Why does he hate the West so much? Why, just why?
Sorry, we can't do that, we seem to have killed him. Bullet to the back of the head – easy mistake to make. We will speak for him.

But the body. There has to be a body we can examine, if not gloat over, and confirm that the bogeyman is once and for all dead. Show the world that the conspiracy nuts were wrong – he didn't die ten years ago in Tora Bora; he wasn't killed in a shoot-out in Kabul; he didn't breathe his last before now. The palace of Islamist dreams held his evil self right on the doorstep of the Pakistani authorities, and America smoked him out. His lifeless self lies on the slab.
Sorry, we can't do that, we dumped him in the ocean where the fishes feed on his flesh. Muslim tradition, you see. We had his body, ok – there's DNA and everything.
Now if you don't mind we have interviews to do; elections to win; oil to pump and an empire to run.
Hold those flags up higher.