Posted by keith on September 13th, 2011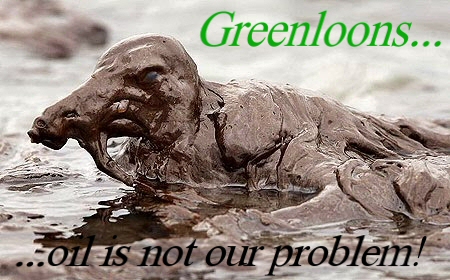 Now that the Unsuitablog is taking a more occasional view of ethical hypocrisy (short for, "I really don't have the time for all this!") it takes a very special email or advert to make it to the blog. Most of them end up in my junk folder, but some of them sneak into my inbox, which usually means I haven't heard from the agency or company in question before. So imagine my delight when something from Greenloons popped up the other day, and made me angry all over, just like the early days when I wasn't so innured from hypocrisy. It deserves to be published in its entirety:
FOR IMMEDIATE RELEASE

Eco Trailblazer Greenloons Guides Families to International Rainforests with Emphasis on Educational / Sustainable Vacations

Top Five Recommendations Span Globe for Certified Green Eco Adventures

Vienna, VA, Sept. 7 – Eco trailblazer Greenloons http://www.greenloons.com/ guides families to international rainforests that are inclusive of sustainable vacation opportunities. Its top five recommendations spanning the globe offer green eco adventures that are certified by leading third party sources.

Irene Lane, Greenloons founder, believes it's never to early to introduce children to the "lungs of the planet", the world's rainforests covering less than two percent of the earth's total surface area but are home to 50 percent of its plants and animals.

"Because rainforests are disappearing at a rate of more than 56,000 square miles each year, it's crucial for kids to learn about how important these environments are to their everyday lives," Lane said. "Through extensive research, we are able to offer unique family travel experiences where young and old can connect at a deeper level in a sustainable manner with the places they are visiting."

Greenloons top rainforest destinations for families include Costa Rica, Peru, Madagascar, Borneo and Australia.

Costa Rica – Rainforest Adventure focuses on Corcovado National Park on the Osa Peninsula that protects such endangered species (showcased by a local guide) as jaguar, puma, crocodile, tapir, poison dart frog, scarlet macaw and harpy eagle. Local beaches are major nesting sites for several varieties of sea turtles. Roundtrip ground transfers are by private taxi from Puerto Jimenez served by daily flights from Costa Rica's Tobias Bolaños International airport in San Jose. Packages are 5 days/4 nights starting at $690 per person with year-round open scheduling.

Peru – Exploring the Amazon Rainforest showcases the world's largest tropical rainforest with the world's second longest river, the Amazon. A motorized canoe down the Peruvian Amazon in the Tambopata National Reserve can reveal, among other wildlife, giant otters. The Tambopata Research Center has exclusive access to untouched Amazonian forests; a local naturalist introduces ongoing projects that include visiting the world's largest macaw clay lick. Five day/4 night trips for $999 per person depart year-round with flexible, open scheduling.

Madagascar – Madagascar Experience encompasses an eco-system so isolated and unusual that scientists call it "the eighth continent." The rainforests of the Atsinanana encompass six national parks that protect the large Indri lemur, tenrec, fanaloka and aye-aye. The ancient town of Antsirable transitions guests around volcanic lakes from upland rainforests to the semi-arid landscape of Isalo. The 10 day/9 night packages start at $1599 with monthly scheduled departures year-round.

Borneo – Borneo Family Adventure includes village home stays at Kinabatangan Jungle Camp and rainforest camping in tropical Sabah, part of the rainforests of Asia stretching from India and Burma in the west to Malaysia and the islands of Java and Borneo in the east. In addition to spotting macaques, proboscis monkeys, crocodiles and perhaps wild orangutans, guests visit Labuk Bay Proboscis Monkey Sanctuary and meet orphaned orangutans. Elevenday/10 night trips start at $1375 for adults with departures in January, April, July, August, October and December.

Australia – Fraser Island & Reef Experience opens up the underwater world of the Great Barrier Reef and Fraser Island World Heritage Site, the only place in the world where along Yidney Rainforest trails and growing on sand dunes at high elevations are towering pines, rainforest trees with giant girths, rare and ancient giant ferns, eucalypt forests, lemon-scented swamp vegetation and dwarfed heathland shrubs covered in a profusion of flowers. On the water side in addition to snorkeling guests may see shipwrecks, sharks, dolphins and manta rays at Indian Head. Six day/5 night trips are offered year-round. Call Greenloons for pricing (703.752.6270).

About Greenloons:

Greenloons (http://www.greenloons.com/) guides families to travel experiences managed by certified third-party suppliers engaged in eco- and sustainable tourism. Lane founded Greenloons in 2010 for the global community of nature enthusiasts and wildlife conservationists interested in accessing detailed and reliable information about responsible, sustainable and certified ecotourism travel vacations both in the US and abroad.

Greenloons is a first-of-its-kind online resource aimed at answering the growing need for accredited eco-tours and sustainable holiday travel in the tourism industry. Greenloons.com provides ecotourism education, news, comparable certified ecotour and volunteer conservation program listings, tour reviews and booking services, plus a forum for the community to share its personal vacation stories and tips for establishing ecotourism in any corner of the world.

# # #

For photos and/or more information on how Greenloons is making a difference please contact:

Sara Widness / 802-234-6704 / sara@widnesspr.com
Dave Wiggins / 303-554-8821 / dave@travelnewssource.com
Website and Portfolio of Past Releases: http://www.travelnewssource.com/
Follow Widness & Wiggins PR on Twitter: http://twitter.com/#!/BoulderDave

Greenloons Company Contact:
Irene Lane / 703.752.6270 / irene@greenloons.com / http://www.greenloons.com/
Now, forgive me if I'm being stupid, but I had a lovely trip to the isle of Skye recently, which consisted of a 1 hour bus journey followed by about 7 hours on a couple of trains and a 30 minute ferry. I walked to the camp site. The environment in which I was camping, with a few others, and learning some useful bushcraft skills to boot, was beautiful. The journey was equally stunning. The total distance travelled: about 250 miles, which I thought was about far enough. Recently I wrote an article on The Earth Blog called, "Finding My Limit" which emphasised the importance of searching out and making the most of that which is close to you.
Such inconsequential places, and such seemingly trivial reasons to go there. Just a few words, a bite to eat, a passing smile, a friendship reignited, a love on fire. We ignore these local places because the civilized world insists that our boundaries are distant, we can achieve anything, we have no limits. The Diaspora of our mechanised, electrical, money-soaked commercial excesses has, indeed, reached round so far it hits itself on the back, and screeches past to take another lap of the little blue-green dot we live on. In universal terms Earth is a dot. In human terms it is all we can ever intimately know as a species, and as I look out of my window I can see – what? – a few hundred metres; a couple of miles if I get up high.

Why go further when what really make our days go round are those apparently inconsequential dealings with the things that are so close to us? Yet we choose to ignore them because there is a bigger world out there. I refuse to accept that and choose the places I can walk to, run through and, if I really want to open my mind up, cycle there and back. That is my limit; all I can really know, and love, and nurture.
Ecotourism is a contradiction. "Tourism" is about travel for travel's sake – the culturally imposed "need" to explore at leisure simply because something is there. "Eco" implies ecology and the tight network within which all life is entwined. The two simply cannot go together, except in the minds of a capitalist, bent on making us believe you can have it all.
Let's look at the quotation from Irene Lane again:
"Because rainforests are disappearing at a rate of more than 56,000 square miles each year, it's crucial for kids to learn about how important these environments are to their everyday lives," Lane said. "Through extensive research, we are able to offer unique family travel experiences where young and old can connect at a deeper level in a sustainable manner with the places they are visiting."
The mass of contradictions in this statement is mind-boggling. Irene is talking about places thousands of miles away, yet she talks about the need to "connect…in a sustainable manner". Is she implying that we can only make deep connections with places that are in exotic locations – for that is what the sales pitch seems to be implying? And does she really expect us to believe that a composting toilet and a faux-native tour justify the burning of hundreds of gallons of aviation fuel and diesel. And what about the "Because rainforests are disappearing at a rate of more than 56,000 square miles each year"? This sounds like a "see it before it's gone" appeal.
Am I being too cynical?
Well, let's look at a quotation from their website to check my cynicism out:

"We know that it is impossible to have a 100% carbon-offset vacation – we are humans after all!"
This is in the context of explaining how carbon offsets are used to make the travel distances no problem at all, apart from the few percent left over because "we are humans after all!" Sorry? No one forced you to travel those thousands of miles across oceans and continents. No one but civilized humans would do that. And that's the real kicker: Irene Lane is conflating the destructive habits of civilized humanity to the whole of the human race. We do not push crap into the atmosphere because we are human; we push crap into the atmosphere because we are civilized humans, brainwashed by people like Irene Lane into thinking that it's ok to go to Borneo, Madagascar, Australia and even Antarctica for our "eco" vacations.
The saddest irony of all is loons, an order of birds chosen to represent a migratory person that lives lightly on the land, require a pristine, food-rich marine environment to survive. The same environments that the Deepwater Horizon oil leak devastated in July 2011, and the Exxon Valdez crash coated in a thick blanket of oil in March 1989. Now what was that oil being drilled for and transported I wonder?