Posted by keith on October 13th, 2008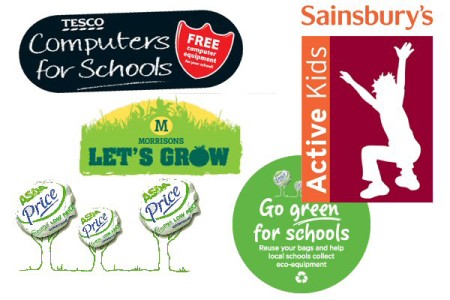 There is no fine line between commercial activity at schools and proper education, assuming you understand that education doesn't mean preparing a child to be a valuable consumer. On the other hand, if you consider schools to simply be conduits into the spending habits of children and their parents then the efforts of supermarkets in the UK and Ireland (and, undoubtedly many other countries) make perfect sense.
This week, The Unsuitablog is concentrating on a particular phenomenon which is growing ever more insidious: the School Supermarket Voucher Scheme. Even if you haven't directly encountered one, you will probably know how they work: shopper buys goods from supermarket; shopper is given some vouchers in return for their custom; children of shoppers take vouchers into school; school collects vouchers and exchanges them for items that are of use to the school.
Simple. So what would explain the different attitudes being exhibited by the following three quotes:
Tesco announced today that it is creating a brand new voucher collection scheme that will offer schools and clubs a huge range of exciting products to collect for.

By merging its two highly successful voucher schemes into one bumper catalogue, the supermarket will offer schools and clubs much greater choice as well as the freedom to decide where their priorities are.

Lucy Neville-Rolfe, Corporate and Legal Affairs Director said:

"Over the last 17 years millions of children up and down the country have collected Tesco vouchers for their schools. We wanted to build on this success by extending our support into others areas of the curriculum, such as health and art. Our enhanced voucher collection scheme will make it easier for schools and clubs to benefit from our programme, and we expect it will prove to be our most popular yet."
(from http://www.tescoplc.com/plc/corporate_responsibility/news/press_releases/pr2008/2008-06-13/)
During the summer term, parents and friends of the school sent in their 'Tesco Computers for Schools' vouchers and parent helpers in the library spent many a happy hour counting them – thank you.

This year we collected 17,053 vouchers, which were added to the 15,104 'banked' last year. This gave us a total of 32,157 vouchers to spend.

We recently took delivery of a brand new Apple iMac costing 26,500 vouchers – leaving 5,657 banked for next year.

Many thanks to all who sent these vouchers into the school. As you can see, they have been converted into a really useful piece of computer equipment, which will benefit all of the students here.
(from http://www.colytongrammar.devon.sch.uk/news/index.htm)
A Sligo school is among the first in the country to formally oppose what it calls 'covert and exploitative' activities by major companies seeking to advertise their products to young children.

The Sligo School Project has outlawed activities such as high profile token collection schemes operated by big supermarkets, as well as commercial presentations and the use of sponsored curriculum material, as part of a formal policy on commercial free education.

The school's co-ordinator for commercial free education, Ms. Carmel Morley told THE SLIGO CHAMPION that the school decided to take a stand in response to the growing number of commercial schemes aimed at marketing to pupils and their families through the schools.

She maintained that offering primary school children advertising in the guise of education was 'unethical and exploitative'.
(from http://www.sligochampion.ie/news/sligo-school-outlaws-store-token-schemes-1495619.html
That last one was rather at odds with the other two, but before you decide whether these schemes are "unethical and exploitative", it's worth just explaining some of the techniques used by the supermarkets to ensure the success of these schemes.
The Techniques
This is by no means an exhaustive list, but I have broken them down into four main areas:

1. In-school promotion
The companies operating the schemes provide large amounts of promotional materials for the schools that have registered with them: these include headed paper which which to write introductory letters to parents; branded collection boxes for classrooms and common areas; posters and large banners to attach to internal and external walls, school boundary fences and other visible areas; curriculum resources including resource packs, information sheets and other information related to the scheme. Not forgetting the branding of the vouchers themselves, which always contain a supermarket logo.

2. Community Emphasis
The schemes always operate under the auspices of "community": this may be by providing the schools with equipment such a play equipment, computers or books; by having a social or environmental angle on the scheme; or by implying that the company are "bringing together" different parts of the community to ensure the success of the scheme. This is reinforced by the schools using the branded letters and other materials to encourage parents and children to take part in the schemes for the benefit of the school. Schools are encouraged to use the local press to promote their participation in schemes to the wider public.
3. Bonus Vouchers
In many cases, vouchers are handed out for a set value of purchases or (in one case) for a set number of shopping bags, but this can be augmented if the shopper buys certain products or a certain number of a particular product, such as buying 3 bottles of drink and receiving more than the individual voucher value of the product. Bonus vouchers are almost always attached to high profit goods, or bulk purchases greater than the shopper would normally buy.
4. Limited Timespan
It is very rare for a scheme to operate over a long period of time. Normally the collection period is no more than a single term (semester), which compresses the activity into a short period. This ensures that schools do not become complacent or lose enthusiasm, and also allows for annual (or more frequent) scheme episodes, which always have a slightly different branding from the previous episode.
---
In the next article, I will demonstrate how the operators of such schemes are using classic greenwashing techniques to get their "community" message across and improve their overall image.