Posted by keith on July 17th, 2009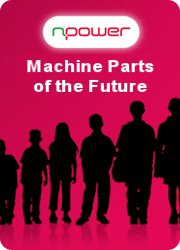 It's the concept that gets me: "Climate Cops", as though it's necessary to have some kind of enforcement regime taking down anyone who causes climate change; so long as that regime is the existing system — "Cops", enforcing law and order in the battle against climate change.
Am I being too cynical?
Let's go back to 2005, when RWE npower decided that it needed a place to dump thousands of tonnes of toxic spoil ash from its Didcot power station in the south of England. Not surprisingly, some of the locals weren't too pleased at the thought of a local beauty spot and nature reserve being filled in by the remnants of the burning of coal to make electricity. Thus started the Radley Lakes campaign, and a chain of events that was to lead to a blanket ban on all media coverage in the area; brutal enforcement of anti-trespass measures by private security guards (climate cops?); the near-death of a protester being held in custody, but who simply wanted to protect the trees; and the final decision by RWE to instead sell the spoil to resurface roads.
That company, RWE npower, own the energy retailer npower, which thought up the idea of the "Climate Cops". Here's the boring administrative version of their website, which just happens to mention that those well-known environmental stalwarts Piers Morgan and Fearne Cotton (jet-setting celebrity arse-lickers, actually) are on the team; hmm, I can't imagine what use those two people would be in encouraging teenagers to take part in the programme…
Anyhow, what happens is that schools sign up to the Climate Cops programme, and are sent all sorts of lovely "educational" materials to do with reducing energy use. This is already starting to sound like the sinister supermarket schemes I documented in so much detail last year.
The companies operating the schemes provide large amounts of promotional materials for the schools that have registered with them: these include headed paper which which to write introductory letters to parents; branded collection boxes for classrooms and common areas; posters and large banners to attach to internal and external walls, school boundary fences and other visible areas; curriculum resources including resource packs, information sheets and other information related to the scheme. Not forgetting the branding of the vouchers themselves, which always contain a supermarket logo.
Teachers and students alike can download packs, quiz cards and worksheets from the Climate Cops website, and you might like to as well:
Fun Pack: http://www.climatecops.com/downloads/funpack.pdf
Poster: http://www.climatecops.com/downloads/climate_cops_poster_earth.pdf
Door Hanger, for your child's bedroom: http://www.climatecops.com/downloads/climate_cops_door_hanger.pdf
The more observant of you will have noticed three key things:
1) The happy characters adorning all the materials, armed with toolbelts and grins; as well as — bizarrely — a polar bear doing a "thumbs up" sign, because we all know the good stuff npower's Climate Cops are doing for the planet.
2) The incessant branding of all the materials with the "npower" logo, just in case you ever forgot what fine company was responsible for all this great climate fighting gear. If you use the door hanger, then your child's bedroom door can also be sponsored by npower.
3) The complete absence of any mention of RWE npower's main business…
…which just happens to be the generation of electricity through the burning of coal, gas and oil.
Gas-fired power stations
Didcot B, Great Yarmouth, Little Barford, Cowes
total output: 1,900 MW
Coal-fired power stations
Aberthaw, Didcot A, Tilbury
total output: 4,900 MW
Fuel Oil-fired power stations*
Littlebrook, Fawley
total output: 2,500 MW
Combined Heat and Power
13 sites in UK
total output: 2,000 MW
RWE npower are also proposing to build 2 new gas-fired power stations and one new coal-fired power station in the UK.
Now, if you clicked on the "Fun Pack" link above, you will notice also lots of mentions of wind energy, so you would think that npower were really big generators of wind power and other renewable sources. After searching around their electricity generation web site, I had started giving up hope that I would ever find details of their renewables business. I eventually found their renewable power arm, RWE Innogy (presumably a play on the words "Innovation" and "energy") which revealed that RWE's total UK installation of wind power is around 420 MW.
This means that the total electricity generation portfolio, for a company that is proudly trying to produce a force of Climate Cops, consists of:
3.5% low carbon (renewables)
33.3% medium carbon (gas and CHP**)
63.2% high carbon (coal and fuel oil)
Would you trust this company with your children's environmental education?
---
*fuel oil is the same oil that is used to power ships; when used to produce electricity it is even dirtier than coal, which is one reason it is so rarely used
**CHP depends on low-density heat, so is not terribly efficient.