Posted by keith on October 17th, 2008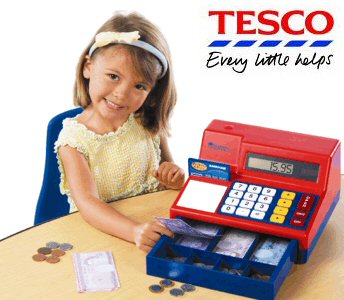 In the previous part of this series I wrote about two prime examples of greenwash being used to maximise the success of School Supermarket Voucher Schemes. In this final part I will explain who the real winners and losers are, and what you can do to change things…
By now it's pretty clear that supermarkets are not giving anything away with their voucher schemes, and may be gaining an awful lot — but it's also possible that schools get something out of these schemes too, as exemplified by the quotes in Part Two. If it is indeed the case that schools benefit from these schemes, then how do you explain the Tesco advert below:
There's no shortage of urgency to get everyone you could possibly influence to go down to their local Tesco and get hold of vouchers; but maybe Tesco, or Sainsburys, or Morrisons, or Asda are being genuinely altruistic and the extra sales are just a useful by-product of providing a valuable social service. To help you decide, I have carried out a short analysis of the four schemes mentioned (note that these are the four largest supermarket chains in the UK, and they all ran or are running schemes in 2008, so I'm not picking on any one company) to find out who gains most financially from them. You can access the relevant catalogue by clicking on the supermarket name. I have only used items that represent the overall range (low, mid and high value), and for which I can reasonably accurately provide a sales price.
Tesco CD-R Pack
Voucher = 360
Sale Price = £3
Voucher Price = £3600
Store/School Benefit Ratio = 120:1 (i.e. store gains £120 for every £1 school gains)
Samsung S630 Digital Camera
Vouchers = 3300
Sale Price = £70
Voucher Price = £33,000
Store/School Benefit Ratio = 471:1
Apple 20″ iMac
Vouchers = 26,500
Sale Price = £900
Voucher Price = £260,500
Store/School Benefit Ratio = 290:1
Eco-Ed Poster Set
Vouchers = 300
Sale Price = £6
Voucher Price = £3000 (based on one carrier bag containing £10 worth of goods)
Store/School Benefit Ratio = 500:1
Pocket Microscope Set
Vouchers = 800
Sale Price = £30
Voucher Price = £8000
Store/School Benefit Ratio = 266:1
Bird View Remote Camera System
Vouchers = 3000
Sale Price = £170
Voucher Price = £30,000
Store/School Benefit Ratio = 176:1
PVC Rounders Bat
Vouchers = 94
Sale Price = £6
Voucher Price = £940
Store/School Benefit Ratio = 156:1
V12 Panther Cricket Bat
Vouchers = 280
Sale Price = £14
Voucher Price = £2800
Store/School Benefit Ratio = 200:1
Butterfly Compact Outdoor Table Tennis Table
Vouchers = 7969
Sale Price = £240
Voucher Price = £79,690
Store/School Benefit Ratio = 332:1
All Purpose Plant Food
Vouchers = 68
Sale Price = £7
Voucher Price = £680
Store/School Benefit Ratio = 97:1
Graduate Spade
Vouchers = 340
Sale Price = £20
Voucher Price = £3400
Store/School Benefit Ratio = 170:1
4′ x 6′ Greenhouse Twin Wall
Vouchers = 4979
Sale Price = £260
Voucher Price = £49,790
Store/School Benefit Ratio = 192:1
What is very clear from the above analysis, is that with nothing else taken into account, the financial benefit to the supermarket is between 100 and 500 times the benefit gained by the school. Bear in mind that although vouchers would be given with shopping regardless of whether the shopper bought more than they normally do, the schemes are (as the advert at the beginning of this article showed) are designed to take custom from other stores, so there is a net benefit to the store that gains the most publicity: hence the posters and banners provided to schools. Also, the sale price of an item is likely to be much lower to the store, equivalent to the wholesale price of the goods purchased by the shopper — so, the ratio provided is a good reflection of how much the store benefits financially from the schemes.
There are, of course some benefits to the schools — here they are:
1) Equipment
2) Information packs
That said, here's a list of the benefits, in addition to increased sales, to the supermarkets:
1) Free in-school advertising
2) Customer loyalty and children as future customers
3) Socially responsible image
4) Ability to influence curriculum
The outcome is very clear: the supermarkets are the outright winners of these schemes, in almost every way imaginable. The losers are the shoppers who will buy far more than normal to obtain vouchers but, most of all the children who are being subjected to continual corporate brainwashing, right under the noses of the very people who have been entrusted with their education and well-being.
The supermarkets aren't the only businesses responsible for this, either: brands like Flora, Cadburys, Walkers and Nestle are all competing for a piece of the education system, and the attention of children not just in the UK, but right across the world, and it's getting more intense all the time.
What You Can Do
If this makes you feel angry and determined to do something, there are many things you can do.
1) Join a campaign group: in the USA, the main group is Commercial Alert; in Ireland, the group is Commercial Free Education. Incredibly, no such group exists in the UK, unless you can tell me otherwise. If you are keen to set up such a group then The Unsuitablog will be happy to support you.
2) Tell teachers, friends and children about the harm caused by commercial advertising in schools, and the huge benefits the supermarkets and other businesses gain from such schemes (or rather, commercial promotions). Refer to this study if you need evidence, or show people the catalogues and posters for examples. Write letters to newspapers, blog about the subject and repost the links to this series of articles:
Schools Supermarket Vouchers Special: Part 1
Schools Supermarket Vouchers Special: Part 2
Schools Supermarket Vouchers Special: Part 3
3) Refuse vouchers when offered them, explaining your reasons and, if you can, don't go to supermarkets at all. Write to the offending companies saying that you will not be a customer unless they stop running such promotions.
4) Demand that your school (or your childrens school) removes advertising from within in grounds, or on its boundaries. This is a breach of ethics and trust. First speak to the head teacher and if this doesn't help, write to the board of governors. If this is unsuccessful then you may have to take direct action.
5) Subvertise and/or remove offending advertising in and around schools. A pair of wire cutters is very useful for removing banner adverts on school boundaries, and if you come across posters in and around the school then simply remove them — if challenged then ask why the posters are there in the first place.